It looks like previous reports were correct; there is no Fiesta RS coming but Ford has been toiling away on a high-performance Fiesta ST200 (thought to be called the Fiesta ST Plus).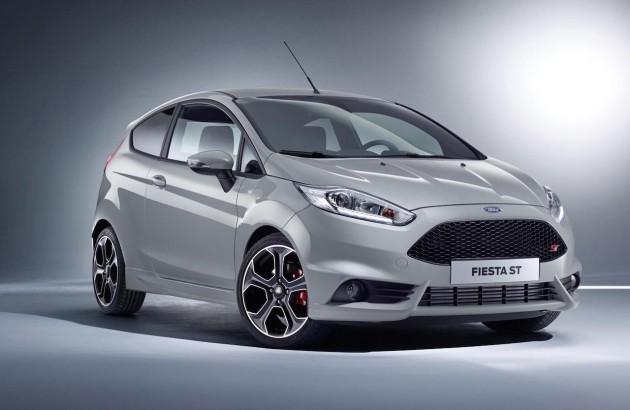 The regular Fiesta ST is already a brilliant little hot hatch. It doesn't need anything to make it better but that hasn't stopped Ford engineers from working some magic to spice things up a bit.
Starting with the engine, the ST200 uses a tweaked version of the standard car's 1.6-litre EcoBoost turbo four-cylinder. Outputs are turned up from 134kW (147kW overboost) to 147kW (158kW overboost), and from 240Nm (290Nm) to 290Nm (320Nm).
This makes it the most powerful Fiesta production car ever made, and also the quickest. It achieves the 0-100km/h sprint in just 6.7 seconds. Part of the improved acceleration is thanks to a new differential with the final drive ratio dropped from 3.82:1 to 4.06:1. Despite being shorter through the gears, the top speed is still very respectable, at 230km/h.
Ford has made some revisions to the drive program, with three modes for the stability control system, while enhancing the torque-vectoring control function. There's also a unique front steering knuckle, increased roll stiffness for the rear, and upgraded springs with a 15mm lower centre of gravity. A quicker steering rack is also added to further increase agility.
Lastly, some bespoke revisions have been made to the design, with matt black alloy wheels, a unique Storm Grey paint option, and exclusive trimmings for the interior added in. Joe Bakaj, vice president of product development at Ford of Europe, said:
"The Fiesta ST is truly beloved by owners and critics. The ST200 takes this special drivers' car to a new level of power and performance. I think it's a future classic in the making."
Production of the new beast will kick off in June with deliveries taking place soon after. It's unknown at this stage if the ST200 will ever make it to Australia. Let's hope so.