Ford representatives might have squashed rumours of an ultra-hot Fiesta RS hatch being in the works, but it doesn't mean there isn't a more spicy version of the ST on the horizon. There's now rumours of a 'Fiesta ST Plus'.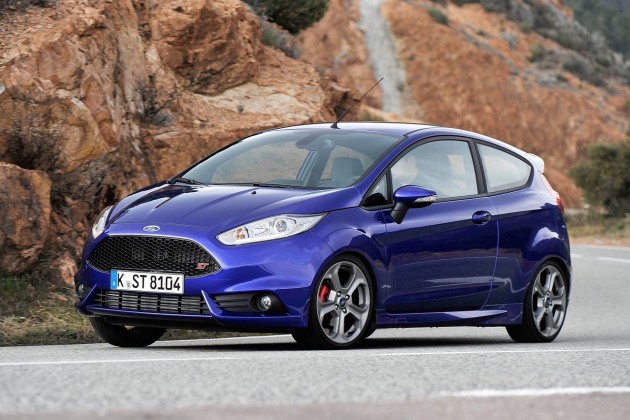 Yep, the latest news to come from Europe suggests there is a more potent version of the excellent Fiesta ST hot hatch in development. According to an Autocar report, the new version could debut as soon as the Geneva motor show next month.
Specific details are unknown at this stage but the report says we can expect more power from the ST's 1.6-litre EcoBoost turbo four-cylinder, with figures wound up from the standard 134kW output (147kW during overboost).
In Europe the Fiesta ST is available from factory with a Mountune upgrade that lifts power to 158kW. This could be a healthy indication of what to expect from the rumoured Fiesta ST Plus. With this, acceleration times are likely to drop from the factory 6.9-second time for the 0-100km/h sprint.
Along with engine enhancements, the Fiesta ST Plus is expected to come with various performance tweaks, such as upgraded suspension and brakes, bespoke alloy wheels and uprated tyres, and a revised interior.
Last month Australian media were told the Fiesta RS was not happening, despite previous indications. Company representatives obviously have to withhold a certain amount of information from prying journalists, with Ford Performance chief engineer Tyrone Johnson saying an RS is "definitely not in the plan". Johnson did, however, stop short of saying anything about any sort of uprated Fiesta.
It's understood a Fiesta RS might have ended up walking too closely with the new Focus RS. There was talk of a 180kW engine and all-wheel drive system. With such a setup in a small package, it probably would have been quicker than the Focus RS.
We mustn't get too excited just yet as nothing is official. We'll be eagerly following this one though and update you with any more information that we hear. Stat tuned. If all is true, we could be seeing something at the Geneva show that starts on March 1.