By definition, December in Australia is a 31-day celebration of the three S's: sun, sea and summer. On the other side of the planet, though, the twelfth month of the year usually entails crisp layers of snow on the street and an icy wind biting its way through your nose and ears. But instead of desperately praying for spring to arrive early in 2015, Ford Motor Company has chosen to use the frosty festive season as the sparkling source of inspiration for a highly original team-building exercise.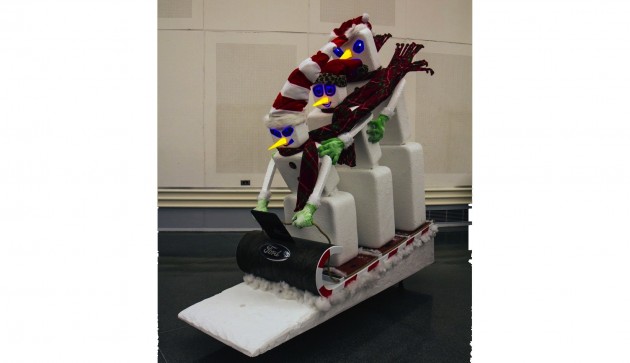 Nine design units were instructed to build their very own snowman, given only three chunks of Styrofoam™ and the freedom to use any other supplementary materials their imagination suggested. In the end, the combined creativity and team spirit resulted in nine winter wonders, each of them not even closely resembling your children's all-time favourite, Frozen's Olaf.
The truck team's heavy metal snowman, for instance, boasting jet black hair and a spiked harness, definitely steals the snow – sorry, show – as his gloved hands eagerly clasp an interesting-looking guitar/axe. Another group, however, channelled some dreams of summer as they let their creation bathe in a turquoise pool on a golden beach, cocktail included.
Unlike their snowy counterparts, these white fellows will not melt as soon as sunlight kisses them. While six of them are said to grace the Ford design studios, two orphanages and a senior home in Michigan can look forward to welcoming the other ones shortly into their midst.
It will take some serious global cooling before all Australians can perform snowman challenges in December, but we can hardly wait to see the first sandmen appearing on Bondi Beach.