A poignant moment in Australia's manufacturing history as the last ever Ford Falcon completes production, drawing the Broadmeadows and Geelong manufacturing facilities to a halt for the first time in 57 and 91 years, respectively.
600 former employees are now left to consider their futures as a further 160 transition to R&D roles to culminate in a 2000-strong team inside Ford's product development team by the end of 2017. CEO Graeme Whickman had the following to say:
"Today is an emotional day for all of us at Ford. We are saying goodbye to some of our proud and committed manufacturing employees and marking an end to 91 years of manufacturing in Australia. But, as the country's largest automotive investor and soon employer, we have been able to transfer many employees from our plants to our design, engineering and testing facilities across Victoria."
New investments in product development include the recent introduction of a virtual reality design lab. The You Yangs test facility will also form an integral part of Ford Australia's development of cars for countries including China and India, such as the Figo and Escort. You Yangs was introduced in the 1960s after the original XK Falcon.
Ford's now post-manufacturing future in Australia starts with the promise of 20 new or facelifted models by the end of the decade.
Although we now say goodbye to an icon, it's worth reflecting that Falcons will still be a part of Australian scenery for some time to come, with many classic and performance examples certain to be looked after long after the last commuter hacks have stopped running.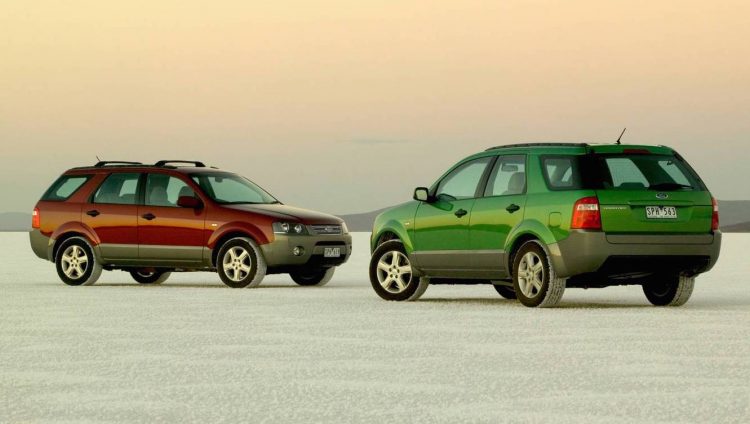 The Territory was a testament to the foresight and innovation of the company when it was launched back in 2004. Ford predicted a market trend that still continues today, albeit fragmenting into more and more pieces. It remains one of Australia's most innovative automotive creations.
As reported earlier this morning, the final two cars are destined for a museum, while the last two driveable examples will be auctioned off as part of a community initiative to further the education of young engineers.