Ford has launched its new generation of 'EcoBlue' diesel engines, with many benefits over the outgoing 2.2-litre Duratorq, despite a 200cc reduction in displacement.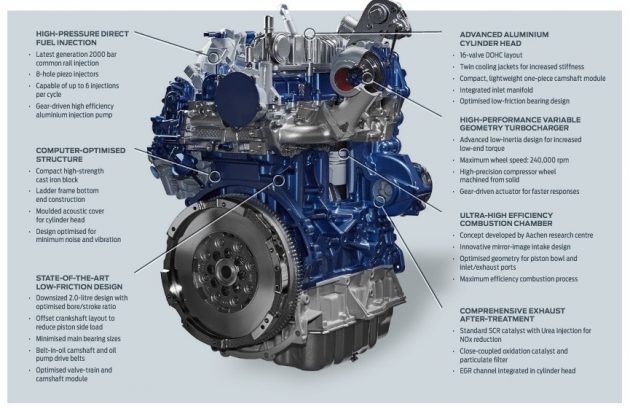 Touting 13 per cent improved fuel economy, the new 2.0-litre EcoBlue draws on the success of the EcoBoost petrol engines, with significantly less friction thanks to an offset crank and single piece camshaft. A new fuel system featuring tiny injector holes manages injection more precisely than ever. The holes are just 120 microns in diameter.
Advanced rocket materials are used in the turbocharger, such as Inconcel for the turbine, ensure it can spin at up to 240,000rpm. As a result, there is 20 per cent more torque (340Nm) at 1250rpm, compared with its predecessor.
Three states of tune will be offered for the engine; 77kW, 96kW, and 125kW for Transit buyers, while passenger cars such as Mondeo will get up to 178kW.
Refinement is significantly improved thanks to a stiffer ladder frame and noise-optimised cylinder head, said to eliminate clatter in traffic conditions.
Most importantly of all, given that the diesel engine is getting a lot of bad press lately, NOx emissions are down by 55 per cent compared with Euro 5 standards, now exceeding Euro 6 which comes into play this September.
Although the use of the EcoBlue name might imply the use of an additive fluid, there was no mention of this at the time of writing.