If you love your classic Bimmers, you'll love this BMW 3.0 CSi Alexander Calder Art Car replica. While the Price tag is quite high (the owner is asking $350,000), it seems there's been a substantial amount of pride, and effort gone into bringing this car to life.
This E9 BMW 3.0 CSi Alexander Calder Art Car replica was restored to replicate the Group 2 Le Mans Calder Art Car. The car is said to be built to museum standard with no expense spared.
To make sure the BMW 3.0 CSi Alexander Calder Art Car replica had all the right stuff, it is said to be built in-house by a BMW dealer.
Some of the standout features of this BMW 3.0 CSi Alexander Calder Art Car replica are:
320kW S38 Finauer Motorsport engine with Haltech management
280 Getrag five-speed gearbox
Bilstein coilover suspension
Performance friction calipers and rotors
Period correct Group 2 bodywork
BBS E55 racing wheels – 15×10 front, 15×11 rear
The original BMW Art Car project (what this replica is based on) was spawned by French racecar driver and auctioneer, Hervé Poulain. American Artist Alexander Calder took on the job of creating the quirky famous paintwork. The car was then raced in the 1975 Le Mans endurance race.
Since then, a total of 17 BMW Art Car projects, ranging from standard production cars, to full blown race cars, have been completed by renowned artists from around the world. Some of these artists include Robert Rauschenberg, David Hockney, Frank Stella, Andy Warhol, Roy Lichtenstein and Jenny Holzer.
The most recent BMW Art Car (pictured below) was an M3 GT2, and was completed by American artist, Jeff Koons. The car competed in the 2010 24 Hours of Le Mans, however it failed to finish the race.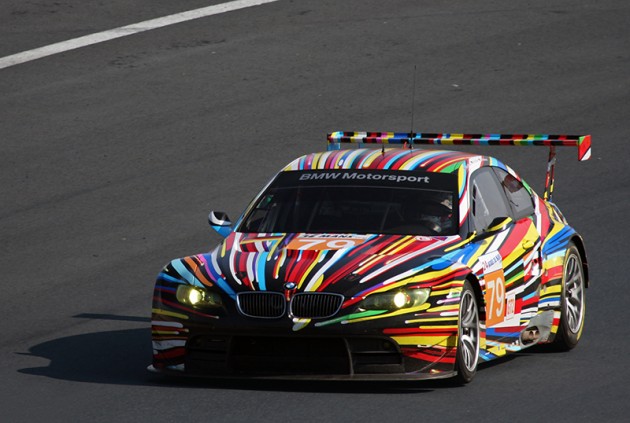 Artists can't just paint any old BMW and present it as an official BMW Art Car, artists have to be specially chosen by the panel of international judges. So you could say it's a huge privilege to decorate some of Munich's finest.
If you've got a cool $350k lying around, why not go lash out on a car that's most certainly going to turnheads. You can view the original ad by clicking here.