Looking for something a little different? Or maybe you're not over the death of the Aussie V8s? Here's an Audi A6 featuring a Holden 253 V8.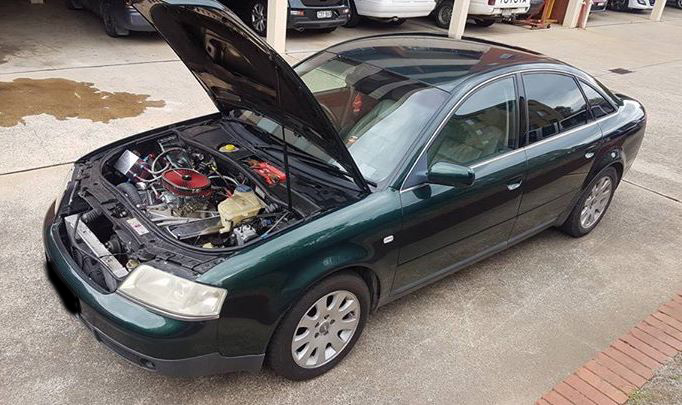 No, it's not a typo. An outside-the-box person out there has fitted a second-generation Audi A6, which is actually available with a 253ci V8 in factory form (4.2L), with the chugging, gurgling heart of a Holden V8. It's complete with an old school carburettor fuel system.
The A6 looks totally standard on the outside, and even the gear shifter is the standard Audi item. However, underneath there's a Holden 253ci V8 and its Trimatic thee-speed automatic transmission. Gone is the quattro all-wheel drive system too and in its place is a converted rear-wheel drive setup.
Speaking with PerformanceDrive, the owner says the diff was the trickiest part of the conversion as the standard setup runs in the opposite direction. To get around this the owner simply rotated the diff 180 degrees.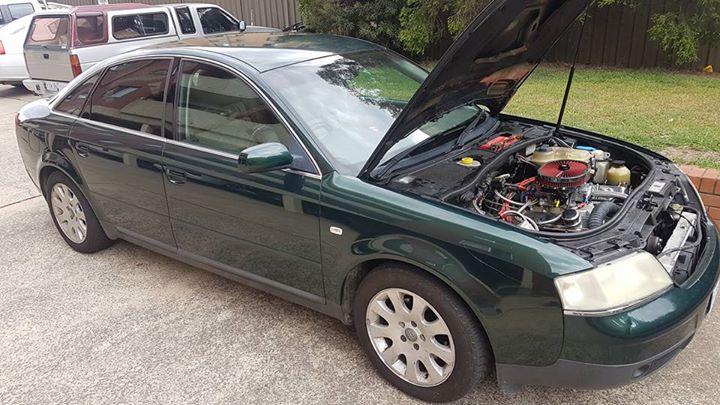 As for fitting the engine, the owner says it was an easy fit. In fact, it took only around two weeks, and that included working a full-time job. Again, the A6's engine bay is capable and was designed to swallow a V8 from the start, so sizing up was never going to be a problem.
Instead of using the Audi's complex wiring and electric fuel injection systems, it has all been replaced by an old-fashion carburettor. It might not sound all that advanced but the owner says the factory motor was on its way out and this V8 creates a more exciting drive.
Now, this is normally the part where we link you to the car's selling advertisement. But unfortunately we can't pass on any details, under request from the owner. He says he is already getting an overwhelming amount of questions and enquires to deal with.
It's certainly an interesting conversion idea. What do you think of it? Feel free to give us your thoughts in the comment section below.