Think of the craziest engine conversion idea for a car and we can bet it probably won't be as crazy as this one. It involves taking one of the smallest cars ever produced and fitting it with one of the biggest passenger car engines. Yep, a Fiat 500 with a Lamborghini V12 engine.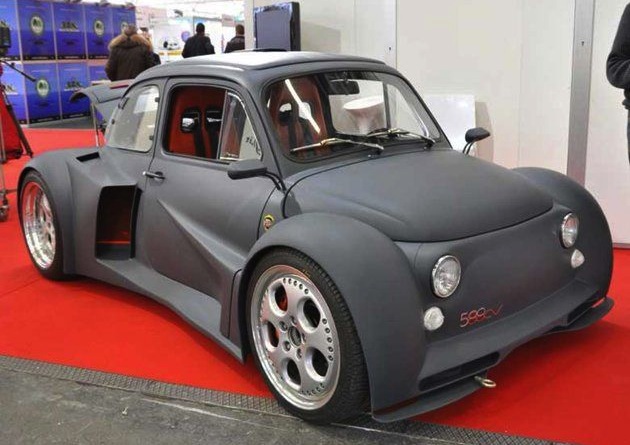 It's pretty much a combination that is derived from two ends of the automotive spectrum. From factory the Fiat comes with a barely-500cc two-cylinder engine producing a kitchen appliance-like 9.7kW of power.
As for the Lamborghini engine, it's a 6.2-litre unit taken from a Murcielago. It's believe the engine is producing around 430kW thanks to a few performance enhancements such as a custom exhaust system.
Custom is the magic word here, as almost nothing from the original Fiat 500's factory blueprint remains the same. The body and chassis are now two very different and hugely modified pieces of this mechanical marvel, all created by OEMMEDI Meccanica.
The chassis is a complete custom-made unit made using an assortment of steel beams and braces, with a bit of a floor pan and a cradle for the engine blended in. The geometry for the bespoke suspension layout is also worked into the new chassis.
As for the body, it's also a custom job. In fact, very little of the Fiat 500 is left in place, except for the headlights and bonnet, the roof, and parts of the C-pillars. Other than that, the mega wheel arches are crafted out of sheet steel, while other parts of the body including the firewall and the massive side air intakes are also handcrafted.
Finishing touches include a set of Lamborghini alloy wheels, made-from-scratch side mirrors, and a unique dash with fresh gauges sitting in a custom centre console and dash fascia. The brakes are also serious racing-syle cross-drilled discs with multi-piston calipers.
Although there doesn't appear to be any driving videos anywhere online (at the time of writing) we'll be sure to keep an eye open. Meanwhile, there is a video showing a start up and rev of the incredible V12 beast. Click play below to take a listen.
Interestingly, this car actually started out as a project with a Porsche engine and then a Ferrari V8 engine. See below for images.