The mighty Ferrari FF is now on sale in Australia and New Zealand. The FF is the Italian supercar maker's first ever all-wheel drive model, and replaces the Ferrari 612 Scaglietti grand touring coupe.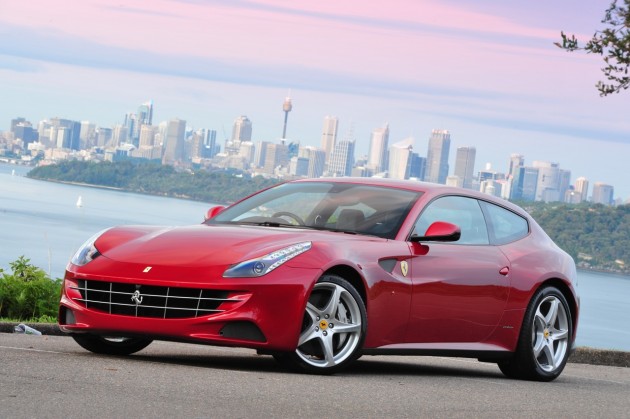 The Ferrari FF is being praised the world over as a technical masterpiece, featuring a sophisticated 4RM all-wheel drive system offering mountains of stability. The system incorporates a computer management system which constantly communicates with the E-diff rear differential, and front Power Transfer Unit located at the front axle.
Ferrari – and reviews from around the world – says the power delivery to the wheels with the best traction is instantly calculated by the computers and ultimate traction is always put through to the ground. The seven-speed dual-clutch transmission, capable of shift times in zero seconds, is placed at the rear axle as a transaxle setup for optimum balance as well, making the handling even more rock solid.
Under the bonnet in a mid-front-mounted position lies an example of Ferrari's art and science, blended together. It's a 6.3-litre V12 GDI with direct-injection. It uses a number of special low-friction materials and a 12.3:1 compression ratio to strum up a beautiful orchestra of sound. To the tune of 8000rpm, power is rated at 485kW. Torque is rated at 683Nm. Up to 500Nm is available from 1000rpm to 8000rpm.
As for the performance, 0-100km/h is achievable in just 3.7 seconds, while, if you leave your right foot pressed hard onto the go-pedal, the Ferrari FF will soar onto a top speed of 335km/h. The average fuel consumption, if you're worried about that in this sort of vehicle, is rated at 15.4L/100km.
Kevin Wall, General manager of European Automotive Imports, Ferrari importer for Australia and New Zealand, recently spoke about what the FF is all about, saying,
"The Ferrari FF is, quite simply, the most useable and versatile supercar built by Ferrari. The Ferrari FF will enable owners to enjoy their supercars in places and under conditions previously unthinkable for cars that offer the performance provided by the Ferrari FF."
The four-seat, four-wheel drive (hence, FF) V12 supercar is now available in Australian showrooms. Prices start at $625,000, excluding on-road costs – $73,000 cheaper than the 612 it replaces. Bargain.