Ferrari is planning to unveil the Ferrari 599XX Evolution at the 2011 Bologna Motor Show this weekend, showcasing more sophisticated F1-derived active aero, more power and less weight.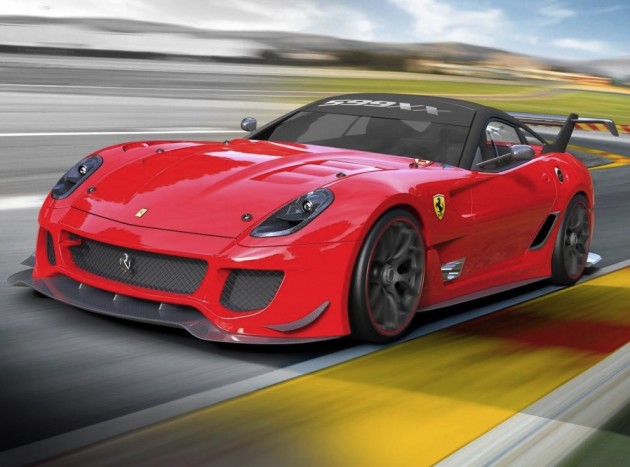 As if the 599XX isn't already hardcore enough, the Ferrari 599XX Evolution is a non-homologated model which will be available for track driving only. It features active aero revisions, such as a large rear wing incorporating a Drag Reduction System (DRS), just like an F1 car.
The DRS technology actively alters two flaps of the wing in regards to various inputs, such as steering angle, vehicle speed and acceleration, as well as all feedback from the 599's electronic stability and braking programs. Adjustments are then made to provide the best downforce for the quickest lap times.
Other aero revisions include a new carbon fibre front splitter and corner winglets, and a carbon fibre rear diffuser. Ferrari says the aero package helps to provide up to 330kg of downforce when the flaps are open, and 440kg when closed, allowing for optimum corner speeds.
Under the bonnet, the Ferrari 599XX Evolution features the same 6.0-litre V12 as the normal 599XX, derived from the 599, with a redline of 9000rpm. Only instead of producing 540kW, the Evolution produces 552kW and 700Nm thanks to a new side-exit exhaust system. Weight is also reduced by 35kg, resulting in 1486kg total weight.
Don't expect to pick up one of these super-hot track-ready models at your local Ferrari dealership any time soon though, as the Ferrari 599XX Evolution will only be available to Ferrari Corse Clienti (race clients) assisting in Ferrari's research and development for 2012-2013. A price tag hasn't been mentioned, but it's expected to be in the seven-figure region.