Ferrari has unveiled the 488 Spider ahead of its Frankfurt Motor Show debut, effectively becoming the drop-top version of the new 488 GTB.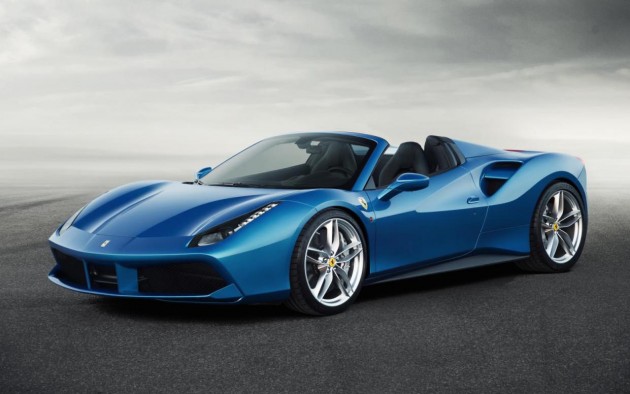 The 488 is the replacement for the 458. Although it looks kind of similar, it's what sits in the engine compartment that is the major change. It comes with a 3.9-litre twin-turbo V8 producing 493kW and 760Nm.
It is the first turbocharged Ferrari convertible in 30 years. It's able to sprint from 0-100km/h in just 3.0 seconds. Covering 0-200km/h takes just 8.7 seconds, with a top speed of over 325km/h. Fuel economy, not that you're going to be worried, is rated at 11.4L/100km on the combined cycle (down from 11.8L/100km in the naturally aspirated 458 Spider).
As for the roof, it showcases Ferrari's retractable hard top (RHT) design which is extremely light in weight, weighing under 25kg, while also offering superior cabin comfort compared with a soft-top layout. The overall kerb weight is 1525kg, which makes it 10kg lighter than the 458 Spider.
To ensure the Spider lives up to the performance of the GTB, engineers have made the sub-frame out of 11 different aluminium alloy grades and other metals such as magnesium to maximise rigidity. In fact, the Spider presents the same beam stiffness and torsional rigidity figures as the coupe, improving chassis performance 23 per cent over the 458 Spider.
Ferrari has also made some revisions to its Side Slip Angle Control System (SSC2), resulting in 12 per cent faster acceleration out from corners compared with the 458 Spider. Response times are also 9 per cent quicker with no compromise in comfort, according to the Italian manufacturer.
Market entry for the new model is expected to kick off before the end of the year, after its public debut at the Frankfurt show in September. Local prices are of course yet to be confirmed.