The rather intriguing Citroen Aircross concept has been officially revealed following a leaked image earlier this week. It will make its full public debut at the 2015 Shanghai motor show.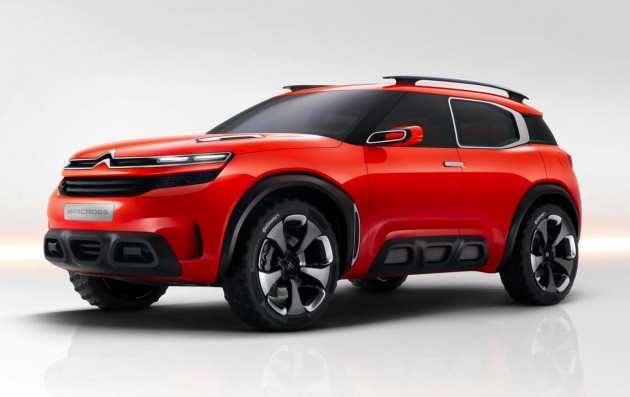 As you can see, the Aircross concept is an attempt at a full SUV-style vehicle by Citroen. It showcases various unique highlights that give it an interesting yet robust and rugged design.
From the the hiking boot-style black 'grip' sections on the underside of the front, back and sides, to the black-accented wheel arches, the Aircross is a bold and creative concept for the SUV segment. Citroen explains,
"Aircross shakes up design cues while respecting SUV essentials. Drawing on the product and styling traits of the C4 Cactus, the body design and cabin ambience express a sense of modernity and a singular spirit. The new concept car shows Citroen's ability to assert its identity in all vehicle segments."
Highlights include two 12-inch high-definition screens inside, including one that is mobile and can be detached to go from passenger to passenger, as well as reverse-hinge doors, integrated seats, and plenty of storage solutions throughout the cabin. Each seat is also equipped with speakers and microphones "to encourage dialogue between passengers".
Specific details on the powertrain are yet to be revealed, however, Citroen says there is a plug-in hybrid system providing efficiency and "top-level performance" for an SUV. More details are likely being reserved for a potential production version.
Although coy about potential production confirmation, the company says the Aircross concept "illustrates the Brand's international ambitions, rolling out its positioning initiated with the C4 Cactus with a body style intended for sale around the world".