UTES
Ah yes, the humble 'ute'. A distinctly Australian class of vehicle. Nowadays, the ute seems to be just as popular with tradies as it is weekend warriors. From the job site, to the dusty trails, or on the boat ramp towing a jet ski, the ute can do it all. Whether it's just for you and one other person or for your family, there's a lot to love about the 'utility' of a ute.
Following its debut a couple of weeks ago, Nissan Australia has confirmed the 2022 Navara...
BUYING A NEW UTE ONLINE
If you're looking to buy a new ute in Australia, we can help you get a great deal! Thanks to our relationships with and access to a nation-wide network of car dealers, we are able to offer an online car buying service that is simple and easy to use, and which will save you money.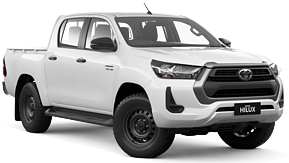 Alicia from Adelaide SA
saved $5,304
off the drive-away price of a new Toyota Hilux on 9 Sep, 2020.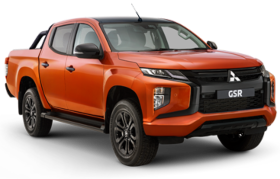 Peter from Cannington WA
saved $8,024
off the drive-away price of a new Mitsubishi Triton on 8 Sep, 2020.
How complicated and flooded has the dual-cab ute market become? It's crazy. And it makes...
COMPARE UTES
Utes have become so popular these days that the manufacturers have had to step up...
SPECS PACKAGE DRIVE VERDICT It's becoming increasingly difficult to pick the right 4×4 ute for...
BUY A UTE & SAVE MONEY IN 4 EASY STEPS

STEP 1:
MAKE AN ENQUIRY
Let us know what you're after by filling out the short form and one of our car buying specialists will call you shortly afterwards.

STEP 2:
CONSULTATION
Our specialists can help you find prices on cars that match what you're chasing, as well as give you other options to consider that you may have not thought of.

STEP 3:
COMPARE OFFERS
Within 48 hours, we'll come back to you with the best offers from our network of local and national car dealers.

STEP 4:
BUY & RECEIVE YOUR CAR
Once purchased, we can organise delivery of your new car to your home or office.
What is a ute?
In classic Australian fashion, a ute stands for 'utility vehicle'. Put simply it is a cab i.e. where the driver sits, with a tray or 'tonneau' on the back. Usually a ute can seat anywhere from two to five passengers. A ute can either have an aluminium tray-on-frame, or have a moulded body tray.
How and where was the ute invented?
The old tale goes that the ute or 'utility vehicle' was invented in Australia because a farmer's wife wanted a vehicle that could haul stuff on a weekday yet be presentable enough to drive to church on Sunday. As folklore goes, the wife wrote to FOrd Australia in 1932 demanding such a vehicle. It was claimed to be invented by Ford Australia way back in 1934, based off similar designs in the United States. The first ute was basically a 'Model A' Ford with a tray on the back, designed to carry pigs. And the rest is history – from there, the first competitor to Ford's utes was Holden, which used to be a saddlery company before jumping into motor vehicles.
What types of utes are there?
One of the main draws with a ute is how variable they are. From two doors, to four dours, two seats to five or more, a ute has what you're after. In a strict sense, a ute traditionally referred to a 'coupe utility' with a cargo tray integrated into the passenger body. However, the name has expanded to include most vehicles with a tray on the back, including those with an aluminium tray.
Utes can be found with a single cab i.e. just a single row of seats, or in dual cab fashion i.e. two rows of seats. An 'in-between' variety is one with 'jump seats', which is a foldable rear row of seats to fit passengers in a pinch. Utes can be powered by either petrol or diesel, although diesel varieties are traditionally more favoured on the work site and for towing stuff for their increased torque at low rev ranges.
How to pick the best ute to buy?
The best ute to buy is one that fits your needs. If it's for a work site, tray-back utes generally have a larger surface area to fit stuff, whether that's lumber, dirt, tools and so on. This is where it's important to look at the 'payload', which indicates how much stuff you can put in the tray without overloading the vehicle.
If it's for lifestyle purposes, a traditional utility may be what you're after as they arguably look 'nicer'. If you're using your ute to tow, it's worth looking at the braked towing capacity. If you're using it for off-roading, then four wheel or all wheel drive will come in handy here.
Popular models of utes include the Ford Ranger, Toyota HiLux, Mazda BT-50, and the Isuzu D-MAX, and all have multiple configurations to suit your needs. The Ford Falcon Ute and Holden Commodore Ute used to be kings of the road, but since 2016 and 2017 respectively, local manufacturing of these icons has stopped.
If you're looking at serious, regular hauling, such as for a horse float, larger boat, caravan, or racing car, a ute or 'truck' configurable with a gooseneck may be preferable. You may have to spend a little more here and go for an American brand such as the RAM 1500 or Ford F250.