Images of the hot new BMW M8 have surfaced online, giving us a first look at the high performance grand coupe. And as a bonus, the vehicle in the images appears to be a potential 'M8 Competition' variant.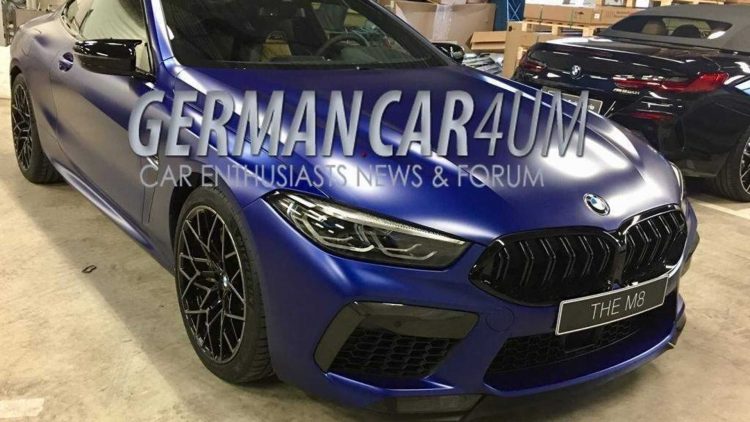 The images were published up by a member of GermanCarForum, showing a deep matt blue M8 with some very distinctive features. So far BMW has only shown the M850i and 840d versions of the new 8 Series, but the M8 shows of the full attitude potential for the coupe.
Telltale signs that this could be an M8 Competition include all of the black or carbon fibre trimming details, such as the front grilles, lower intakes, side mirrors and window surrounds, as well as the rear lip spoiler and diffuser section lower down. There's also a set of mesh-style alloy wheels with black inner-spokes. These components are commonly seen on Competition variants, such as the recent M2 and M5 Competition.
Engine specifications are yet to be confirmed, but industry experts speculate the same 4.4-litre twin-turbo V8 will be used from the new M5. And in that sedan the engine produces 441kW, or in the case of the M5 competition, a whopping 460kW.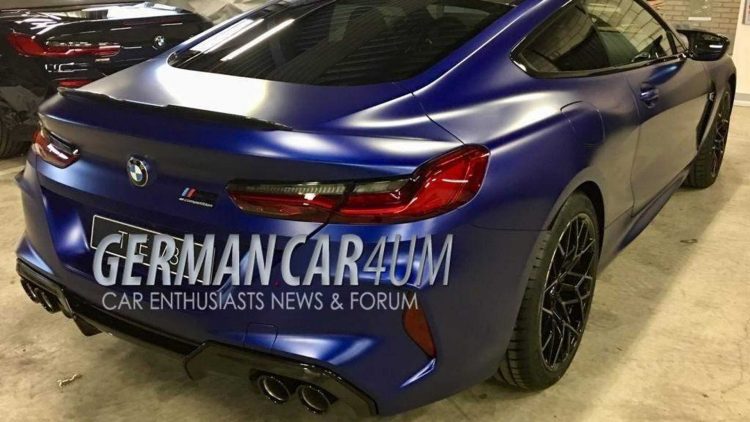 Like the M5 the new M8 is expected to adopt an all-wheel drive system, also similar to the M850i. This should help to get the power down to the ground and dispatch the 0-100km/h sprint in around 3.4 seconds. Considering the 390kW M850i already offers a claimed time of 3.7 seconds, the only way is up (or down, in terms of sprint times).
It looks like this example pictured is in some kind of workshop, potentially at BMW M's facility set up right next to the Nurburgring. With makeshift number plates that read "The M8", it could be about to go off to an official photo shoot in preparation for its big unveiling.
Speaking of which, the debut is likely to take place at either the Detroit show in January or the Geneva show in March. We'll keep you posted.