A video has surfaced online providing a first taste of the upcoming BMW M8's exhaust sound. The video was captured during a prototype showcase at the Nurburgring 24hr event over the weekend.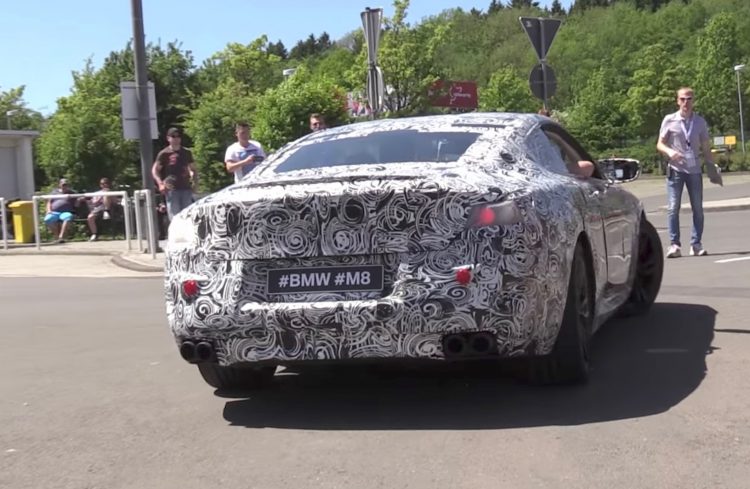 BMW only announced the news of a new 8 Series being in the pipeline a couple of weeks ago. It then revealed a concept model that's set to inspire the eventual showroom car. And then the German company went ahead and announced it would produce a flagship M8 version as well.
Well, it's not just news. It seems the company has been developing the M8 for some time. Enough time for it to show off a working prototype. As for the sound? It's a meaty growl, and surprisingly there's some crackling going on in the overrun. In our opinion, it's almost as raucous as Jaguar's 5.0-litre supercharged V8. This is going to be welcomed with open arms by M and sports car fans, as BMW M cars of late have arguably lacked in the aural department.
As far as we know, what you're hearing is a 4.4-litre twin-turbo V8. BMW hasn't confirmed any specs at this stage but plenty of speculation suggests the M8 will sport the same updated version of the S63 V8 as the upcoming M5. In that, power is tipped to top 450kW.
Like other M cars, the M8 is likely to come with plenty of performance features, including bespoke suspension and brakes, and a racy yet subtle aero kit. However, being based on the 8 Series, which will come in as the brand's flagship grand tourer, we suspect there will be a high level of luxury retained with the M8.
Despite being the biggest and likely the heaviest M car in the showroom, the M8 is still expected to be very quick. It will have to go up against the likes of the Mercedes-AMG S 63, and even the Aston Martin DB11 to some degree. As such, it will probably be priced accordingly. Click play below for a preview.