The stunning new BMW i8 plug-in hybrid sports car will officially hit the road in international markets in June. It will showcase extraordinary fuel economy, a low-slung modern sports car design, and properly breathtaking performance.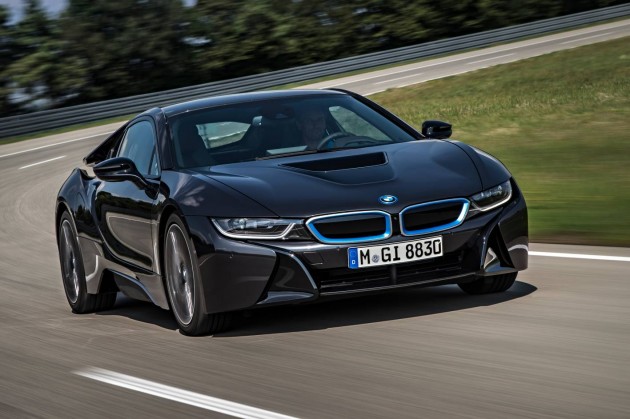 The i8 will be BMW's second 'i' brand vehicle to hit the streets, following the so-far well-received i3 city car. It features a similar eDrive hybrid powertrain only it's more powerful and presented with a completely different personality.
Even though interested punters have been able to place pre-orders for the car since late in 2013, production will commence in April. BMW has announced the first customer deliveries will begin to roll out in June, starting in the European markets.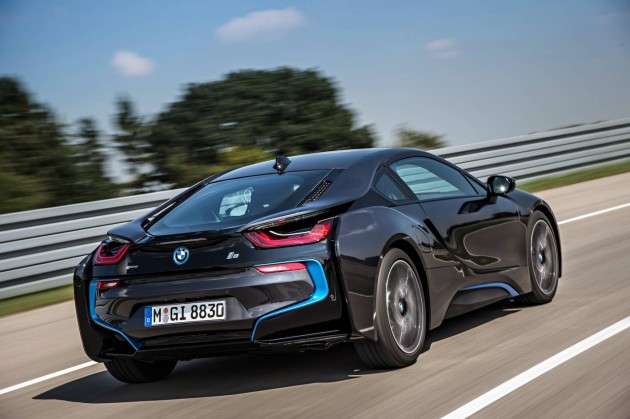 The i8 features lots of advanced, cutting-edge technologies, including laser headlight technology (the first production car ever), and a complex lightweight body, but the highlight of it all is the hybrid engine setup.
Even the petrol component is incredible. It's a 1.5-litre turbocharged three-cylinder producing 170kW of power and 320Nm of torque. This alone is extremely impressive for an engine this small.
To assist with economy and low-end acceleration, there's also an electric motor producing 96kW and 250Nm. Its power supply comes from a lithion-ion battery system. Overall combined output peaks at 266kW.
While peak output doesn't sound like much this car comes packed with lots of lightweight materials such as carbon fibre. It weighs in at 1485kg. As a result, 0-100km/h comes up in just 4.4 seconds and the top speed is limited to 250km/h.
In terms of economy, on the official combined cycle test sees the car return an average of just 2.1L/100km. BMW says in typical everyday driving conditions, with the battery fully charged, owners can expect an average of below 5L/100km.
With more highway driving, owners can expect under 7L/100km, while really long-distance journeys that are draining to the electric motor, owners can expect under 8L/100km.
The new model is anticipated to be one of the most interesting new cars to come out this year. We'd love to test one and actually see how bad we can get its consumption rate. Would it be possible to edge far above 10L/100km?
BMW Australia will be introducing the i8, however, dates and pricing are yet to be confirmed.