Australians will soon be welcoming the all-new, 2018 Audi RS 5 performance coupe, with local pricing and specs released today ahead of its December arrival.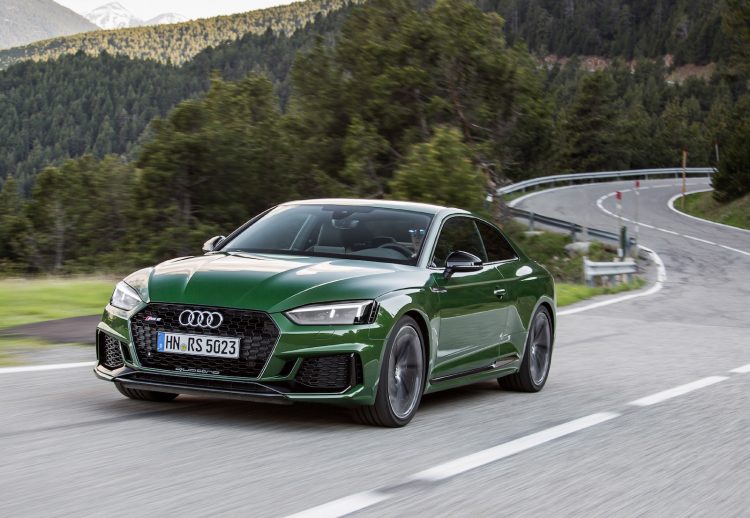 The new RS 5 is based on the recent arrival of the second generation A5, which is underpinned by Volkswagen Group's updated MLB Evo platform. With this, the new RS 5 has managed to shed 60kg from its belly.
Audi says that thanks to the new, lighter weight underpinnings, and a new front and rear suspension layout, the 2018 RS 5 promises even more dynamic handling. It has to go up against the likes of the BMW M4, Lexus RC F, and Mercedes-AMG C 63 coupe, giving you some idea of the car's seriousness.
Power comes from a 2.9-litre twin-turbo V6 producing 331kW and 600Nm. Although power hasn't changed from the old V8 version, torque is up by 170Nm. As a result, 0-100km/h can be dispatched in just 3.9 seconds, making it quicker than the M4 and Lexus RC F, and matching the 375kW C 63 S coupe.
Like many modern twin-turbo V8 engines that are popping up these days, the V6 engine here uses a reverse manifold setup with the exhaust and turbochargers mounted on the inside, in the middle of the V, with the inlet on the outer block. This setup is known for helping the turbochargers reach peak boost quicker, assisting with response and overall efficiency.
From the engine, power is channelled through a sports eight-speed automatic transmission (not dual-clutch) and into Audi's famous quattro all-wheel drive system. The torque is divided up 40:60 between the front and rear axles, with a limited-slip-like rear differential to divide between the left and right wheel.
Being a proper Audi RS model means there are plenty of other performance highlights to support sporty driving, such as Dynamic Ride Control sports suspension with a new five-link rear layout replacing the trapezoidal configuration (and updated five-link front end), along with performance red-painted brakes with optional ceramic discs.
Inside is dressed in a combination of luxury and performance, with leather-wrapped bucket seats, contrast stitching and diamond pattern effect, a number of RS logos, with Audi's virtual cockpit digital instrument cluster and a full LCD media interface. A high-end Bang & Olufsen stereo with 3D surround sound is also standard.
The all-new RS 5 will officially hit showrooms in Australia in December, with prices starting from $156,600 (excluding on-road costs).