About a week after Audi Sport confirmed that it will be debuting six new RS models before the end of the year, a teaser image has now been dropped for the first of such arrivals.
The company posted the teaser onto its German Facebook page, inviting members of the Audi Sport driver's club to a special live event in Audi City Berlin to showcase the new car. It says the event will be held at the beginning of September. Translated from German, the post says:
"Exclusively for members of the Audi Sport drivers club, we will be presenting a new Audi Sport model live at the beginning of September."
No other concrete details accompany the teaser, which means we need to take a close look at the image itself to work out some clues. Firstly, it is obvious it is some kind of wagon or hatchback. Secondly, the taillights seem quite wide and feature a distinct sideways Y-section at the ends with small vertical lines running along the bottom.
After digging through some images and looking at the rear ends of some of Audi's latest models, all the clues suggest the car is based on the latest A6 Avant. Below is an image of the 2020 S6 Avant, which clearly shows very similar taillights. The high haunches above the rear wheels also seem to be in the exact same position and run the same length, above the rear door handles.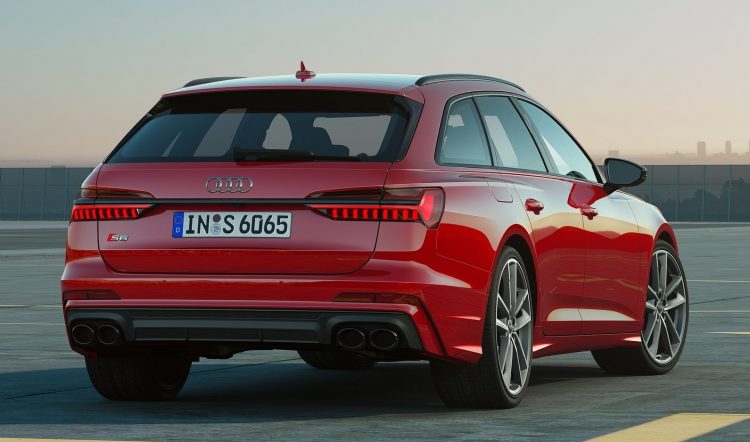 So, what do we know about the next RS 6? There has been some rumours suggesting it might come with the 4.0-litre twin-turbo V8 hybrid system that we first saw on the Porsche Panamera Turbo S E-Hybrid. In that, the setup develops a whopping 500kW. However, this powertrain might be held for higher-end models, such as the RS Q8 super-SUV.
Even without the hybrid, a 4.0-litre twin-turbo V8 is likely to continue only with power boosted up to around 460kW. This would be a jump up from the previous RS 6 Performance which produced 445kW. In a similar way, we'd expect a slight improvement on the 0-100km/h time of 3.7 seconds.
We'll have to wait and see to know for sure. Since the special debut is taking place at the start of September, we suspect a more public debut will be held at the Frankfurt motor show which commences on September 10.