Audi has revealed the new R8 LMX limited edition supercar, which is, according to Audi, the world's first production car with laser headlight technology.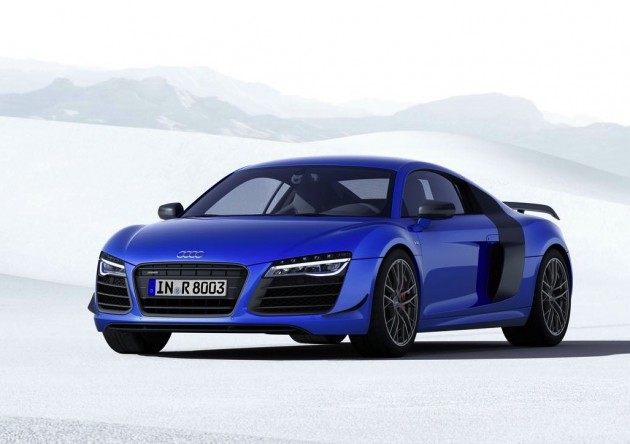 BMW and Audi have been fighting to be the first to bring out laser headlight tech. Although it will be available on the BMW i8, Audi is claiming to be the first to actually launch it.
The special headlights feature laser high beams with one laser module per headlight generating a cone of light with twice the range of an all-LED headlight. Each module uses four laser diodes measuring 300 micrometers. Audi explains,
"These generate a blue laser beam with a wavelength of 450 nanometers. A phosphor converter transforms this into roadworthy white light with a color temperature of 5500 Kelvin – ideal conditions for the human eye that enable the driver to recognize contrast more easily and help prevent fatigue."
The laser spot is activated at 60km/h and over and is an addition to the R8's LED headlights. Using an advanced camera system, the on-board computer is able to detect other road users and adjust the beam pattern.
Aside from the futuristic lasers, the R8 LMX is similar specification to the regular R8 V10, with a 5.2-litre unit in the back producing 419kW of power and 540Nm of torque. It's able to accelerate from 0-100km/h in just 3.4 seconds.
Other unique highlights include carbon fibre ceramic brakes, a fixed rear wing, 19-inch alloy wheels, gloss black exhaust tips, and a bespoke Ara Blue exterior colour scheme with carbon side panels.
Inside there's a number of Ara Blue highlights, Nappa leather seats with Sepang Blue stitching, lots of Alcantara, and some matt carbon trimmings.
Audi is launching just 99 examples of the LMX. It's available to order now in Germany with deliveries scheduled for mid-2014.