After 33 years of all-wheel drive experience, Audi has just finished building its five millionth quattro system. The all-paw drivetrain was fitted to a white Audi A6 Allroad 3.0 TDI.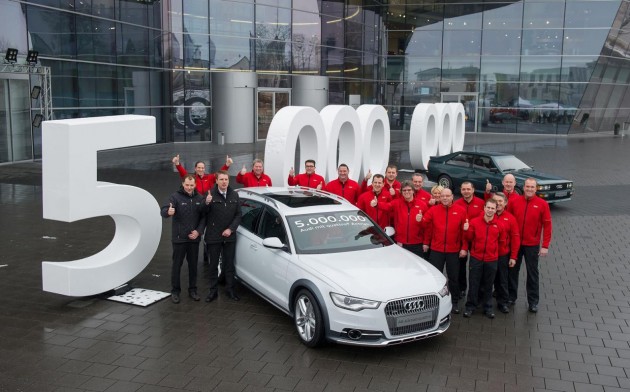 Although the Audi A6 Allroad is just one model example that features a quattro system, Audi has introduced quattro to over 140 different models over the years. The first of which was of course the iconic Audi Quattro which went on to become one of the most legendary rally cars in history. The road car debuted at the 1980 Geneva Motor Show, showcasing a boxy design and a revolutionary – for its time – all-wheel drive running gear.
Since 1980, many car manufacturers have followed in the technological footsteps walked by Audi. Nowadays almost every single Audi model is offered with all-wheel drive. And it seems consumers appreciate it; in 2012, over 43 per cent of customers selected a quattro model.
Rupert Stadler, chairman of the board of management of AUDI AG, recently spoke about the milestone, saying,
"quattro is one of the key pillars of our brand and has been a critical factor in our successful history. The quattro permanent all-wheel drive makes it possible to directly experience our 'Vorsprung durch Technik.'

"We are committed to our pioneering role and will continue to develop this advantage with new technologies."
The most popular quattro-equipped vehicle for 2012 was the Audi Q5. Audi built 205,600 examples. In Australia, the most popular quattro is also the most popular Audi; the Audi Q5 SUV. During 2012 2830 examples left the local showroom floors.