Over the last few months, Audi has been engaging in a drip-feed teaser campaign to drum up interest for its upcoming Q8 premium SUV.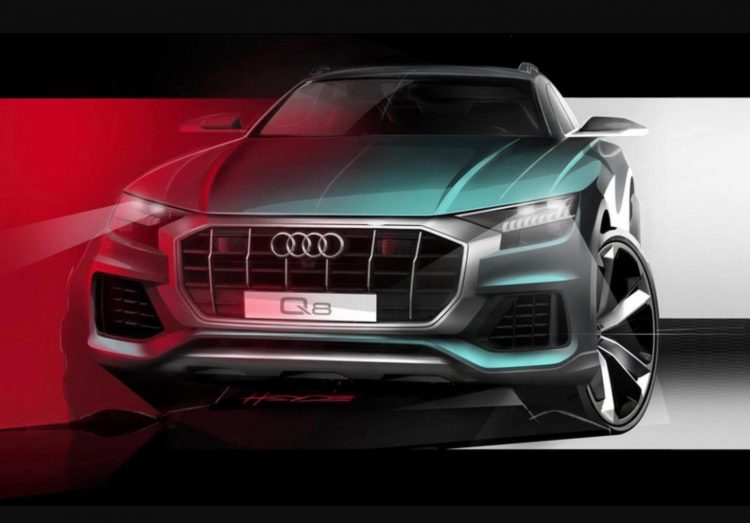 Starting in April with an outline of the car's silhouette, followed earlier this month by a rear end sketch, the latest video in the campaign titled #Q8Unleashed, whereby a truck carrying the upcoming model is the centre of a James Bond-esque mini drama entitled "Unleash the gentleman."
Starring brand ambassador Tom Hardy, the video gives the best look yet at the production front end of the Q8, which very closely mirrors that of the Q8 Sport concept that preceded it. The mini-series idea isn't new or exclusive to Audi; BMW also used the idea in the lead up to the launch of the G30 5 Series, also with a sophisticated secret agent type as the protagonist.
Following up on the sketch of the rear end, a similar sketch has also been handed out showing a preview of the front. It features a big front grille with vertical slats, set back LED headlights, and large corner clusters.
Concept versions of Audi's Q8 have utilised plug-in hybrid technology. Considering mild-hybrid tech has proliferated across the A6, A7 and A8 range – standard on all petrol-engined variants – it's safe to expect V6 and V8 engines will be available too. Using the MLB Evo platform, the Q8 will be Audi's high-riding flagship model.
Are you excited about the upcoming Audi Q8? Let us know your thoughts in the comment section below.
https://youtu.be/m3BiKZcoA3w