Following up from yesterday's report, Audi has now gone ahead and unveiled its latest 2.0 TFSI petrol engine at the Vienna Motor Symposium.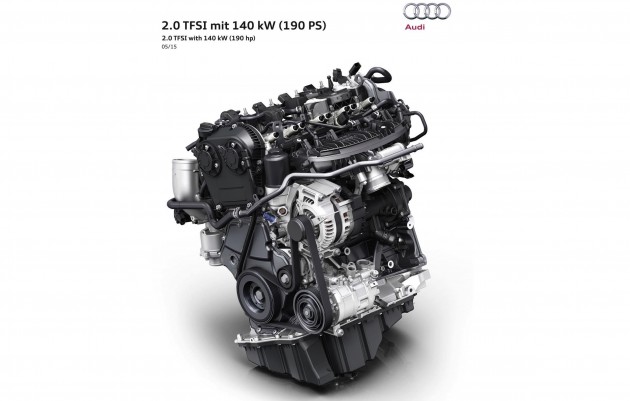 The new unit produces 140kW of power and 320Nm of torque. Thanks to an advanced combustion method, the new unit is being labelled as the most efficient engine in its class, offering a combined fuel consumption of less than 5.0L/100km.
This impressive efficiency is partly thanks to a wide torque band, with the peak output reached in between 1450rpm and 4400rpm. With such a wide window, the engine is capable of changing up gears and pulling through them earlier and easier.
While downsizing seems to be the trend nowadays, Audi says that it is taking a further step on that by 'rightsizing'. Prof. Dr. Ulrich Hackenberg, member of the board for technical development at AUDI AG, explains,
"Rightsizing thus involves the optimal interplay of vehicle class, displacement, output, torque and efficiency characteristics under everyday conditions. Our new 2.0 TFSI is a prime example of Vorsprung durch Technik."
For the new unit the intake time has been significantly shortened. There's also a higher boost pressure on the inlet side, allowing the engine to offer optimal cylinder charges despite the shorter intake time.
Other highlights for the engine, which weighs around 140kg, include the use of a clever coolant flow management system that speeds up the engine's warm-up time. There's also a special exhaust manifold which is integrated in the cylinder head.
Audi says the new unit will indeed debut in the next-generation Audi A4 that is due to arrive towards the end of this year. The engine will probably be applied to other Volkswagen Group vehicles down the track.