Audi has detailed its next-generation quattro all-wheel drive system; quattro ultra. It promises to be five percent more efficient and offer better driving dynamics.
The new system will make its debut under the A4 Allroad mid-year. The highlight of the new system is the ability to decouple the propshaft sending drive rearward when the computer determines front-drive is sufficient. It can also re-engage the rear wheels in as little as 250 milliseconds when required. It also uses data from stability control sensors measured every 10 milliseconds to give it predictive ability.
A 'dynamic' mode lowers the threshold for all-wheel drive engagement, with drifting capability by sending more torque rearward. It can engage all the way up to top speed as well. Engagement and disengagement is said to be more seamless and harder to detect than before.
It is lighter and does not carry a price premium over existing Torsen-equipped quattro systems.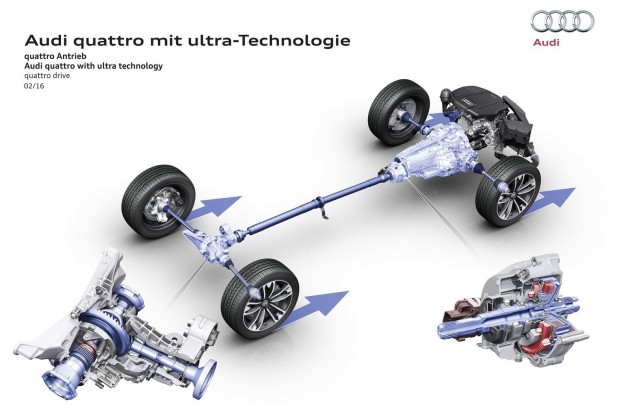 Audi will eventually roll out the quattro ultra system across its entire range, from A4 to the next A5, A6, A7 and the 2018 A8 luxury sedan – a car with an extended development time to incorporate cutting-edge autonomous technology.
Performance-oriented models will benefit from a unique system that can interact with the sports differential in S and RS models.
Audi is the latest manufacturer to debut a more efficient all-wheel drive system, after Mazda debuted its most clever and efficient AWD system to date, which it says could theoretically offer better consumption than 2WD models. Check out the video below outlining the new Audi system.