Remember the mysterious Audi teaser from last month? Another preview has been released that further hints at a possible A9 concept, although it's still yet to be confirmed.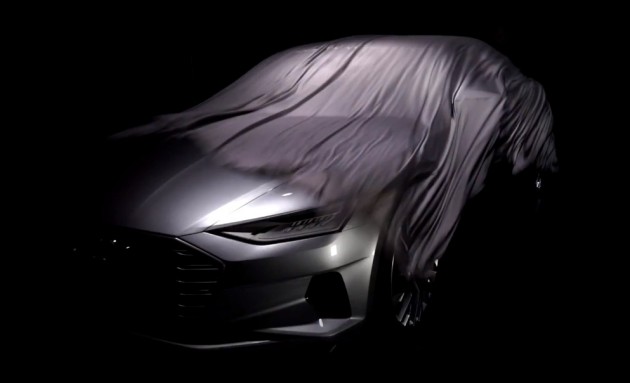 This time we get more of a clue as to what type of body we can expect here. Even with the drape over the top you can clearly outline a four-door coupe-like layout, hinting toward an 'A9' of sorts. It's been rumoured for some time that Audi is planning a model to sit above the A7 Sportback.
As described by Marc Lichte, Audi's new design boss, the concept draws inspiration from the Audi 90 quattro IMSA GTO racing car, and blends in elements from the first Audi A8 sedan and the first TT sports coupe. Again, this points to an A9-like model. Lichte says,
"As for the future, I'd like the face of Audi to display a more emotional design. The design should be timeless, but at the same time very progressive. And I want quattro to be a design element people see in every Audi."
The German company is remaining tight-lipped on spilling any details about the concept or what it is exactly. According to reports, the eventual production car spawned from this is set to come with a 4.0-litre twin-turbo V8 producing around 450kW – it could become the most powerful Audi production four-door ever.
Plenty more details including a first glimpse of Audi's future design direction will be revealed at the 2014 Los Angeles Auto Show starting on November 18. Click play on the video below for a preview, and feel free to tell us what you think it is in the comments section below.
http://youtu.be/qe1NqQcIAqQ