If you're in the market for a truly stunning yet ferociously fast grand sedan, may we suggest the new Aston Martin Rapide S. The 'S' is not only a tweaked version of the Rapide, it's also the replacement for 2013.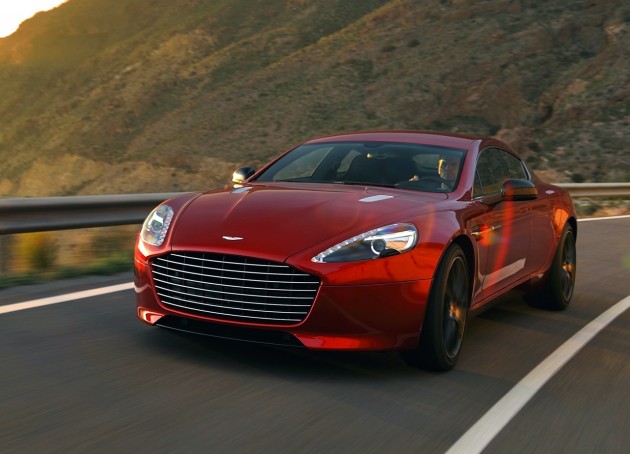 The Rapide is Aston Martin's only four-door. And with the Rapide S, you get even more focused performance on the outside, and greater luxury on the inside.
Under the bonnet sits an uprated 6.0-litre V12 engine producing 410kW of power and 620Nm of torque. With a boost up from 350kW and 600Nm from the outgoing model, the S version is able to sprint from 0-100km/h in 4.9 seconds (down from 5.2 seconds) and go on to a top speed of 305km/h.
In other areas, the Rapide S comes with an updated Adaptive Damping System (ADS). The system now offers three different driving settings from the cabin; 'Normal', 'Sport' and 'Track'. Each alters the dampers to suit accordingly.
To help the S stand out and above in a crowd, or against the outgoing version, there's a revised front bumper bar and spoiler setup, and a huge new central grille. The rear end design is also revised and comes with a flip spoiler on the boot lid.
Inside, the Rapide S is of course highly luxurious, as you would expect, with pampering appointments everywhere you look. Almost everything is either stainless steel, leather, or covered in exotic materials.
There's new piano black highlights on the dash, while an optional red and black Duotone leather upholstery gives it a extra-classy touch. Two DVD players with LCD screens in the backs of the front headrests are also on offer.
Aston Martin engineers have worked on improving NVH (noise, vibration and harshness) characteristics as well with the S, and have developed a new bonnet lining and revised windscreen cowl to make the ride even smoother and more comfortable for the passengers. Aston Martin says the V12 soundtrack is still heard in pleasurable doses.
The new model will be available to order worldwide from February. Australian delivery times are yet to be announced, as are local prices.
If you really need four seats but also can't do without supercar style and performance, the Rapide S is as fitting as they come.