More and more news is circulating regarding the highly-anticipated new Alfa Romeo 'Giulia' mid-size sedan. Now we hear the range-topper could come with a brand-new Ferrari-developed twin-turbo V6.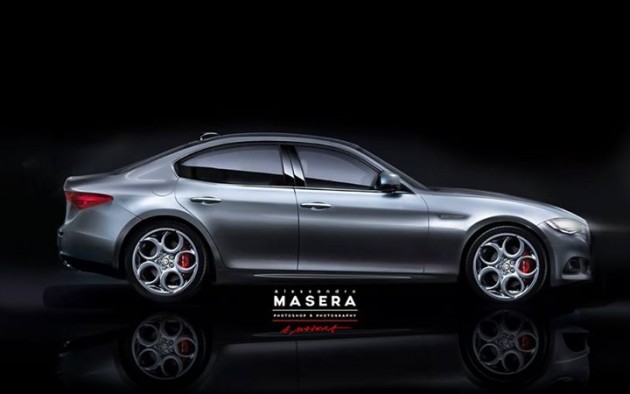 Yep, the top model is expected to come with a Ferrari-derived twin-turbo V6. According to an Autocar report, the engine will be developed for the upcoming new Ferrari Dino 'entry-level' sports car with a spinoff tune made for the Alfa.
Specific numbers are yet to be confirmed but there's talk of the engine hitting around 500hp (373kW) in the Dino. While that kind of power isn't likely to make it to the mid-size sedan (although it would be nice), the engine might be detuned somewhat to be more efficient and less potent.
With a serious component like this on board Alfa could stand a pretty good chance of fending off rivals like the BMW M3 and Mercedes C 63 AMG. Speaking with the publication, Harald Wester, Alfa and Maserati boss, said the car will be sold with character and soul unlike the German rivals which he describes as 'cold and clinical'.
Other powertrain options are likely to include an iteration of the company's 1.75-litre turbocharged petrol four-cylinder, currently seen in the Giulietta QV and 4C. It's understood the unit will undergo a major overhaul soon with power tipped to nudge 220kW (around 300PS).
Critically, the Giulia – name yet to be confirmed – will be rear-wheel drive featuring an all-new platform. This will be the first all-new mainstream Alfa in some time and the first rear-wheel drive Alfa (aside from the 4C) in decades.
Market entry isn't set to take place until 2016, however, the design – potentially in concept form – will apparently be unveiled on June 24 in Milan. We'll keep you posted.
Image: rendered speculation only