Alfa Romeo has been spotted test driving a completely undisguised prototype version of the upcoming 4C Spider. The sexy little sports car was seen in Spain.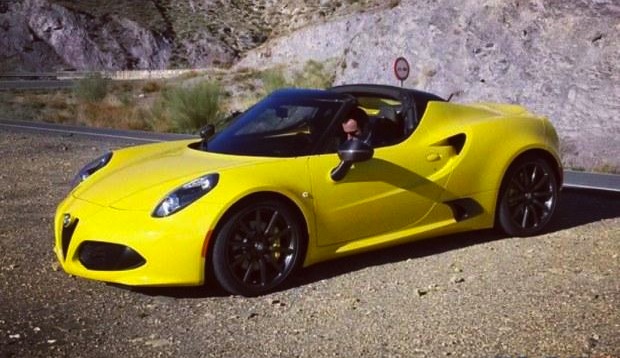 With no camouflaging whatsoever, and an impossible-to-miss bright yellow paint finish, the 4C was apparently undergoing a photoshoot at the time of being spotted.
You might remember the 4C Spider concept car in March this year. This prototype looks very similar but there are a few discreet highlights that will distinguish the production version as seen in these images, first published by Blogo.it
There's an additional air intake scoop just in front of the rear left wheel which is said to provide cooling for the transmission, while the headlights are slightly different and the exhaust pipes are mounted on either side as opposed to being centrally mounted on the concept.
Like the stunning coupe, which is yet to officially arrive in Australia, the Spider is likely to come with the same 1.75-litre turbocharged four-cylinder engine as the coupe. It produces 177kW of power and 350Nm of torque.
In the coupe the engine provides acceleration from 0-100km/h in just 4.5 seconds. This is partly thanks to its lightweight carbon fibre construction resulting in a kerb weight of just 895kg. Alfa said the Spider concept weighed only 60kg more than the coupe, due to extra reinforcing required with no roof. This figure is likely to carry over for the production version.
Alfa Romeo is expected to officially unveil the production 4C Spider at the upcoming Geneva Motor Show starting in March. Alfa Australia has confirmed the 4C coupe prices will start at $75,000. The Spider is likely to come at a premium when it arrives later in 2015.