Alfa Romeo has released the next stage of the all-new Alfa Romeo 4C unveiling ahead of its public debut at the Geneva Motor Show next week. For the first time we get a detailed look at the interior, and some engine specifications are also confirmed.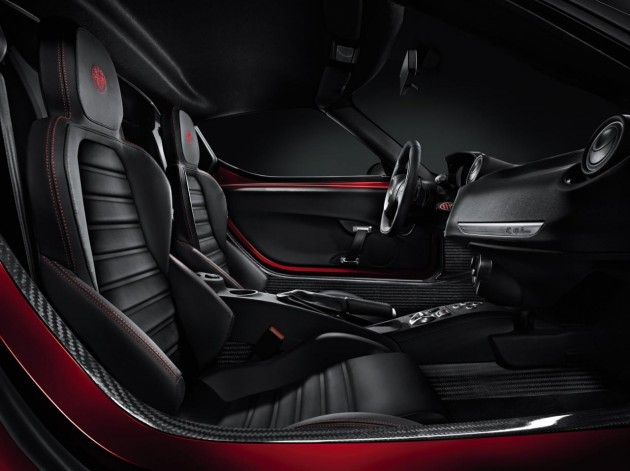 As previously reported the new sports coupe will come with a 1.75-litre turbocharged four-cylinder engine producing a now-confirmed 176kW of power. The unit is matched up to a twin-clutch automatic 'TCT' transmission feeding power to the rear wheels.
Although performance figures are yet to be announced, the 4C features a carbon fibre structure dressed in a full carbon fibre body weighing in at around 960kg in total. This provides a power-to-weight ratio of 5.45kg:1KW, which is just shy of the Ferrari California's ratio (5.1kg:1kW).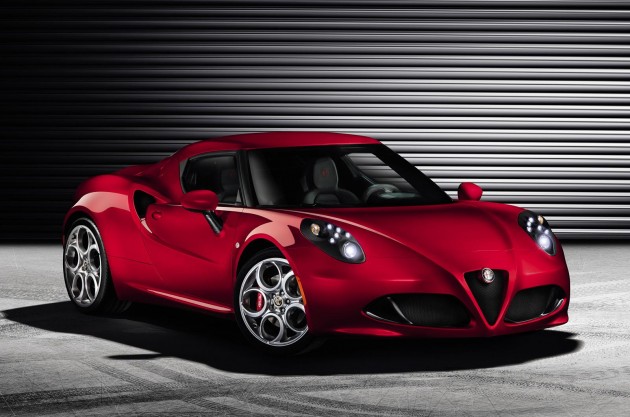 Inside, the Alfa Romeo 4C cabin is all about the passengers and heightening that pure driving experience. The seats are hunkered down while the dashboard is simplistic and void of complex buttons and settings. The door trims follow a similar stripped back theme with a single grab handle and exposed red panelwork.
The driver is greeted with a set of paddle shifters and has a four-mode driver setting called 'Alfa DNA' at his or her disposal. The DNA systems offer Dynamic, Natural, All Weather, and Race modes.
In regards to a possible Australian market entry, a business case is still being analysed for the car to decide whether or not it will be made in right-hand drive.
PerformanceDrive spoke to Karla Leach, director of corporate affairs at Fiat-Chrysler Australia, about the potential for a local introduction. She said details on market availability and left-hand and right-hand drive are set to be all revealed at the Geneva show.
If the 4C ends up being produced in right-hand drive, Leach said Alfa Romeo Australia will be "very keen" to introduce the car Down Under.
We'll be sure to bring you plenty of updates during the Geneva show, starting on March 5.