ABT Sportsline has come up with a package for the latest Audi S8 that is sure to get V8 saloon fans excited, boosting both power and torque by almost 30 per cent.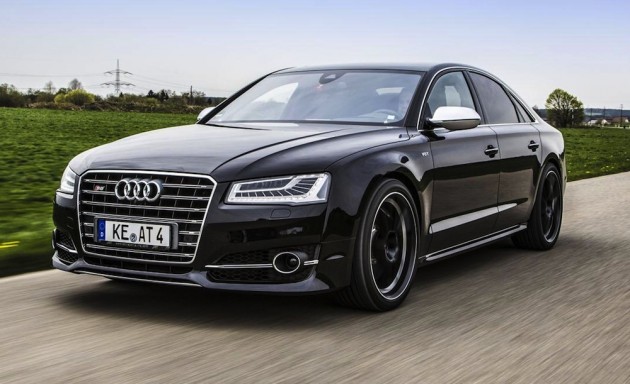 The kW-hungry ABT Sportsline power kit sees engine output peak at 496kW and 840Nm. What this means is the S8 can now shoot from 0-100km/h in just 3.6 seconds, down from an already-fast 4.1 seconds for the factory model.
Forget the 250km/h top speed, too. The kit allows the S8 to hit 290km/h – hello Autobahn, or Northern Territory if you live in Australia. ABT states the performance package has been tuned on its own dynamometre as well as on public roads.
Other enhancements include new 25mm lower 'level control' suspension and a new mid and rear muffler system to liven up the car's sound. ABT also has two sets of wheels to choose from; 20×9.5 inches or 21×9, both wearing 275/35 rubber.
The standard Audi S8 comes with a 4.0-litre TFSI twin-turbo V8 that produces 382kW and 650Nm. It uses Audi's all-wheel drive quattro system with power being sent to the wheels via an eight-speed automatic. Lengthwise, the S8 stretches 5147mm and tips the scales at 2065kg.
The Audi S8 is on sale in Australia, with prices starting from $279,000. Options include ceramic brakes ($23,100), a Bang & Olufsen stereo ($14,500), rear entertainment system ($9,900), dynamic steering ($3,550), double-glazed windows ($4,390), and a full leather package ($20,200).