Audi tuning specialist ABT has come up with a neat upgrade package of the new 2013 Audi R8 V10. The package brings tweaked engine performance, improved handling, and some weight reduction to the already impressive supercar.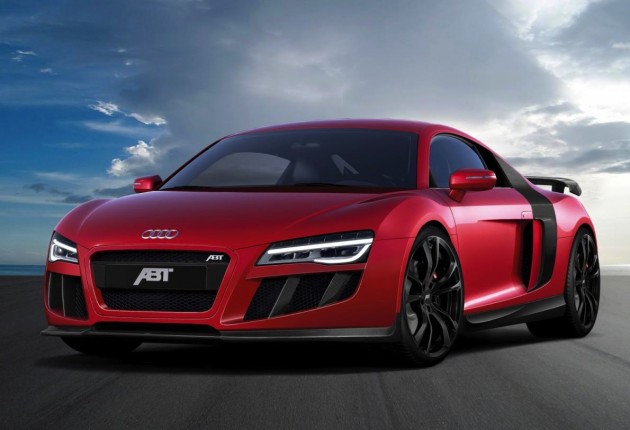 The new Audi R8 V10 comes with a 5.2-litre naturally aspirated V10 engine producing 386kW of power and 540Nm of torque. With help from ABT's engine computer retune and a stainless steel exhaust system, the V10 produces a much more serious 441kW and 550Nm.
As for what this means on the road, the R8 is now able to cover 0-100km/h in just 3.5 seconds, down from 3.6 seconds. The top speed is also pushed out to 320km/h.
To help the R8 remain secure and stable, even at such high speeds, ABT has developed a discreet suspension overhaul which includes specially designed springs, lowering the ride height. ABT also offers full coilover suspension for the new R8 V8 variants.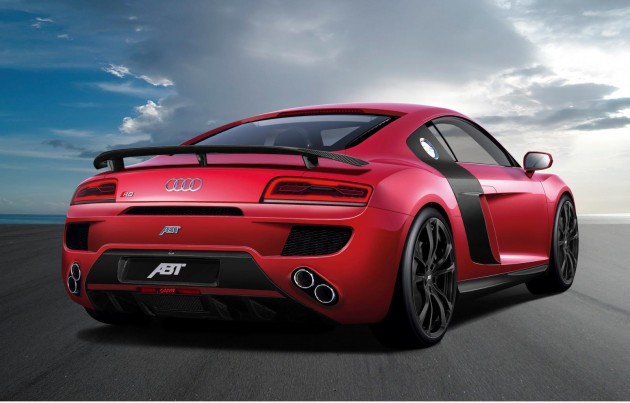 To finish it all off, there's a neat ABT Sportsline bodykit incorporating carbon fibre skirts front, rear, and sides. These provide some weight reduction over the factory items, while giving the R8 a more sturdy stance and aggressive look.
A set of lightweight 9- x 19-inch front and and 11- x 19-inch rear ABT forged alloy wheels can also be optioned. These wear 235/35 and 305/30 tyres front and rear, respectively.
ABT products can be purchased in Australia through RamSpeed. Head over to the ABT Australia website for more information.