The Toyota 86 is simply crying out to be tuned, especially the naturally aspirated 2.0-litre engine. Abflug has released preliminary details on a 'Spiral' performance upgrade it plans to debut at the 2013 Tokyo Auto Salon next month, including a tasty supercharger kit.
In standard form the Subaru boxer engine produces 147kW and 205Nm. As you can read in our Toyota 86 review from earlier in the year, it's good for 0-100km/h in a reasonable 7.6 seconds. The relatively low torque figure is the only aspect that lets it down slightly.
The Abflug tuning kit adds a supercharger to boost engine power to 190kW, which sounds about perfect, however, torque is pushed out to 296Nm, which should enable the sports coupe to be much more versatile in terms of gearing and accelerating from low revs.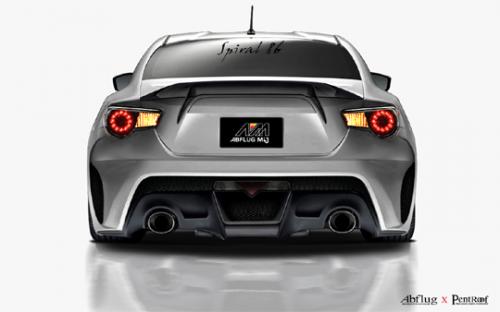 As you can see in the preview images, Abflug also has plans to enhance the body styling. There appears to be an aggressive new front bumper bar with much sharper intake cutaways, as well as a lip spoiler at the back and a chunky rear diffuser.
Full details will be revealed at the Tokyo Auto Salon, starting January 11.