Welcome to the most powerful mid-size luxury sedan this side of the BMW M3 and Mercedes-AMG C 63. This is the Infiniti Q50 Red Sport, featuring Nissan's beaut new 3.0-litre twin-turbo V6.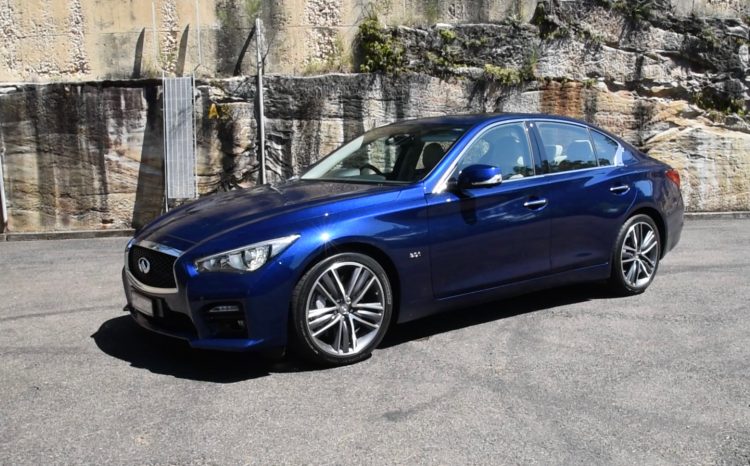 The 'VR30' produces an extremely impressive 298kW of power and 475Nm of torque. This easily overshadows all of its direct rivals, including the Audi S4 (260kW), BMW 340i (240kW), Jaguar XE S (280kW), and the Mercedes-AMG C4 43 (270kW). The Lexus IS 350 (233kW) also falls behind, in terms of power.
Is sheer power enough to win you over though? Well, on first impressions we're a bit confused about this car. We can't figure out if it's trying to be an outright sports sedan or a luxury cruiser, albeit a very powerful one.
You see, it comes with a unique and very advanced fully-electric steering system called Direct Adaptive Steering. We think this, artificial-like setup isn't ideal for a pure sporty drive. On the other hand, it's very relaxing and comfortable for luxury cruising.
Our second big gripe with this car is the fact that it doesn't come with a limited-slip or locking-type differential for the rear-wheel drive system. This means you get huge amounts of inside wheel wheelspin with the stability control off. Again, not good for sporty driving but totally acceptable for luxury cruising.
So what's the point of that 298kW engine then if all you're going to do is cruise around? We must admit, this is probably one of the best V6 engines we've ever experienced. Even with the stupid sound-enhancing speaker system amplifying the engine sound through the speakers in the cabin, it's an addictive, very powerful, and very flexible engine. We love it.
Click play below for our first-impressions review. We'll be putting together a more in-depth written review on the website soon, including our full verdict and usual 0-100km/h video. Stay tuned.