Looking to buy a heavier, slower, clumsier, and (in our opinion) uglier version of the cracking new i30 N? Well you're in luck. The 2022 Hyundai Kona N is tailor-made, just for you.
In all seriousness though, this is a very important model for Hyundai, and it is so good to have it offered in Australian showrooms. It will probably become one of the best-sellers in its segment… Ah, hang on, there are no other contenders in this segment. Boo-yah! That's exactly right. There are currently no fighters in the small, high-performance SUV market segment. You need to step up to the premium markets to find something similar.
And that's the point. Hyundai is jumping into what is already a very popular, fast-growing segment (the regular small SUV class) nice and early so it can claim its ground at the peak of performance. More importantly, for you, the buyers, the product shows a lot of promise, with proper hardcore components and technical know-how derived from its extremely well-executed i30 N – all overseen by Hyundai's R&D head (and former BMW M boss), Albert Biermann.
There are two main trim lines for the Kona N in Australia. There's the regular Kona N and the Kona N Premium. The latter comes with, as you'd assume, a sprinkling of premium appointments and features. Prices start from $47,500 and $50,500, respectively (excluding on-road costs).
2022 Hyundai Kona N – THE SPECS
Engine: 2.0-litre turbo four-cylinder
Output: 206kW@6000rpm / 392Nm@2100-4700rpm
Transmission: Eight-speed dual-clutch auto
Drive type: Front-wheel drive, limited-slip differential
Wheels: F & R: 19×8.0, 235/40
ANCAP: Not tested (regular Kona 5 stars)
Tare weight: 1539kg
Power-to-weight: 7.47:1 (kg:kW)
Official fuel economy: 9.0L/100km
Fuel capacity/Type: 50L/95 RON
Power efficiency: 22.88kW:L/100km
0-60km/h: 3.00 seconds*
0-100km/h: 5.69 seconds*
60-110km/h: 3.67 seconds*
1/4 mile: 14.02 seconds at 165.4km/h*
Max acceleration: 0.938g
100-0km/h braking: 2.94 seconds at 36.69 metres*
Max deceleration: -1.337g
Decibel at idle (/N mode): 46/50*
Peak decibel at 60-100km/h: 86/91*
Priced from: $47,500
* Figures as tested by PerformanceDrive on the day. Factory claims may be different

2022 Hyundai Kona N – THE PACKAGE
Obviously one of the main drawcards of an SUV is practicality. The raised ride height makes it a bit easier to get in and out of, the boot is usually pretty big compared with a regular sedan or hatch, and yes there is usually some level of off-road capability – even if it's just on dirt roads, or simply avoiding scrubbing the front bumper on pesky speed bumps that you may or may not have noticed at the last second.
With all of that in mind, the Kona N is just like the regular Kona. There are very few compromises here in comparison. About the only sacrifice is a firm ride due to sports suspension, but we'll get to that in a minute. Boot space is measured at 361L, which is the same as the AWD versions of the regular Kona, and just short of 374L offered in the regular FWD models. That's because this shares a similar multi-link rear end as the AWD models, while regular FWD models use a torsion-beam setup.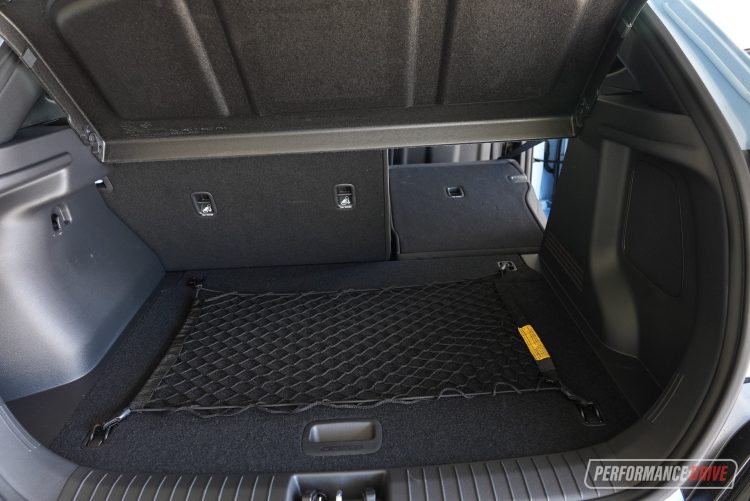 Here's where it gets a bit puzzling. The i30 N hatchback boot is rated at 381L. So although SUVs might seem like the 'practical' choice, when it comes to cargo-carrying capability, in this case at least, the hatchback counterpart is actually superior.
Inside you get cool N sports seats with grip-me-in side bolstering, similar to the i30 N, with leather/suede for the N Premium, as well as a light dusting of reserved yet noticeable N fixtures and fittings. The gear level, pedals, steering wheel, and handbrake (yes a proper manual handbrake) are stitched together with trademark light blue colour thread.
Up on the dash is Hyundai's latest 10.25-inch touch-screen running all of the usual convenience-minded apps and services, including Android Auto and Apple CarPlay, as well as a bespoke 'N' page running interesting performance functionalities; track lap timers, acceleration timers, launch control, engine telemetry, and more.
Rear seat space is pretty much the same as the regular Kona, although the chunky seats in the front do take up a bit more volume. Well, they seem like they do anyway. In any case the Kona doesn't really excel in this particular area compared with some key rivals. And there are no rear climate vents.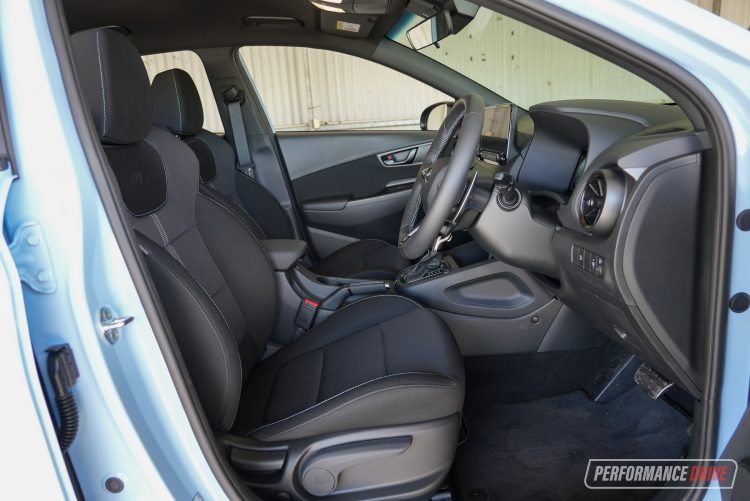 Safety standards are very high, as with all modern Hyundai passenger cars. ANCAP doesn't have a rating for the N model specifically, but it has awarded the regular Kona the full five stars. The N comes with a plethora of airbags, blind-spot collision avoidance, radar and camera type autonomous emergency braking with cyclist and pedestrian detection, rear cross-traffic alert, and safe exit warning so you don't open your door just as a bus swipes past.

2022 Hyundai Kona N – THE DRIVE
It's always strange to be testing an SUV on the track. But here we are at Wakefield Park Raceway as part of the official media launch event. During the event we also drove (the long way) from Sydney down to the track. This included some highway driving, stints along windy mountain roads, and some rough country roads.
Let's start with normal conditions. You can leave it in normal mode and it drives pretty much like the Kona N Line. It's not super-hardcore in other words. The bi-modal exhaust emits a mild burble, and the three-mode adaptive suspension remains in its most absorbent setting, albeit firmer than the regular Kona. There's also different feel options for the steering but to be honest the 'normal' mode is best in all scenarios, in our view.
Power comes from the company's updated 2.0-litre turbo four-cylinder developing 206kW. The twin-scroll turbo runs at about 20psi of boost pressure (according to the on-board gauge) and feeds into a fairly modest 9.5:1 compression ratio combustion chamber. Peak power is spread between 5500-6000rpm. Out on the road it does feel progressive and almost peaky, but you do have 392Nm of torque available from just 2100rpm to 4700rpm.
Thanks to the new eight-speed dual-clutch transmission (DCT), the power delivery is very versatile. It'll behave like a mild sporty hatch in regular conditions, with smooth and seamless gearshifts (for a DCT) and well-spaced ratios, but it also supports very aggressive driving styles. For instance, use the paddle shifters and play around with the ratios and it'll serve up your desired gear almost instantly. Downshifts can be accompanied by automatic rev-matching. It is an excellent transmission in both situations.
We managed to run some acceleration tests both on the track and out on our usual private road to see what's what. Hyundai claims 0-100km/h comes up in 5.5 seconds. That's impressively quick, and again, the quickest time you'll find in this class. Using a Racelogic Vbox Sport we saw a best time of 5.69 seconds, engaging the on-board launch control system.
The system allows you to adjust the rev-limiter during launch, and we found the best results with the limiter at the max 3500rpm setting. We also ran the on-board acceleration timer in parallel with our Vbox tests, and the 5.69-second run showed a result of 5.28 seconds on the touch-screen. This suggests to us the on-board timer runs on the speedo rather than GPS actual speed like the Vbox.
Around the track the Kona N is just sensational, particularly with power delivery and its ability to maintain body control. Unless you've just stepped out of the i30 N, you wouldn't even notice you're in an SUV. After you spend a bit more time with it you do eventually notice the higher centre of gravity in comparison to the hatch.
We feel like the steering isn't quite up to the interactive level of the hatchback, as there is a bit of numbness at certain points. Having it in the sportiest mode doesn't help, either. It just becomes heavy. Understeer is slightly more prominent in comparison to the hatch, too. However, this is where you need to remind yourself this is actually an SUV and not a low hatch. In that sense, it easily overshadows anything else that comes close.
By far the standout is the powertrain. The DCT is flawless. You can fly up to a bend, jump hard on the outstanding brakes (we clocked 100-0km/h in 36.69m), punch down a couple of gears, and then push deep into the accelerator, and it all comes together without a hint of hesitation. Turbo-lag is minimal, and there's always an addictive roaring-and-ready character to the engine.
There is a limited-slip differential too, which operates superbly. It doesn't matter how flippantly you apply throttle, even mid-corner, you won't experience any single-wheel wheelspin at all. It yanks you around with utter confidence and control. It's a blast.

2022 Hyundai Kona N – THE VIDEO
2022 Hyundai Kona N – THE VERDICT
This is a brilliant-fun little SUV, and one that should really put the competitors on edge – there's currently nothing else like it on the market. Putting it another way, it is the fastest and most powerful SUV of its kind. Ever. Now imagine owning one and being able to say that. Feel good, wouldn't it?
For us, and it is probably an isolated concern, we can't help but wonder how much more dynamic this could have been with all-wheel drive. We feel like there isn't enough distinction between this and the i30 N. If it were our choice, we'd go for the i30. But, in saying that, we can totally see where Hyundai is coming from; small SUV sales are among the fastest-growing in the industry. Offering a true high performance option is a master stroke.
As always, if you're thinking about buying a new car don't forget to click here to speak with our car buying specialists.