The Ford Mustang Mach 1 is back following a 17-year holiday from the market. It's being pitched as the best-handling and best-looking 5.0 V8 Mustang ever.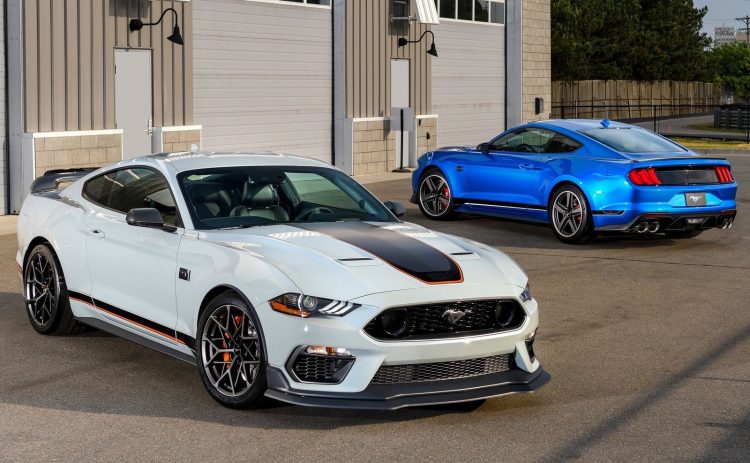 Let's start with the important moving bits under the bonnet. There you'll find a 5.0-litre naturally aspirated V8 that churns out 358kW at an ear-pleasing 7000rpm, and 570Nm at 4600rpm. Some of the tuning includes parts from the GT350, including oil cooling capacity increased by 50 per cent, the intake manifold, and oil filter adaptor.
Matched up the engine is a Tremec 3160 six-speed manual transmission, which is also from the GT350. It brings along a twin-disc clutch pack and short-throw shifter. For the first time, Ford is introducing a rev-matching system so drivers can experience heel-and-toe downshifting without actually needing to twist their ankle.
Buyers can also option for a 10-speed auto which has been optimised with a unique calibration, and features an upgraded torque convertor compared with the regular unit. A second oil cooler also increases cooling capacity by 75 per cent.
Since the Mach 1 is just as much about handling as it is grunt, Ford's engineers made some big enhancements to the chassis and suspension. It features the latest MagneRide tune, stiffer steering shaft, stiffer stabiliser bars and front springs, and stiffer bushings for the rear sub-frame. The rear toe-link is also from the GT500.
Adding further to that, the Mach 1 showcases a unique bodykit for the exterior, including a bespoke front splitter, a rear spoiler that has been optimised to offer the ideal lift balance, and a completely new underbelly which extends a further 508mm rearward to increase airflow.
Overall, Ford says the Mach 1 can produce 22 per cent more downforce than the Mustang GT with the Performance Pack Level 1 option. Mach 1 buyers can option for the Appearance Package which adds a more aggressive rear spoiler (above).
A set of 19-inch Tarnished Dark aluminium wheels complete the look, inspired by the classic Magnum 500 wheels. They measure 9.5 inches wide on the front and 10 inches on the back, wrapped in Michelin Pilot Sport 4 tyres. Buyers can also option up to 19-inch items that are 10.5 inches wide on the front and 11 inches on the back.
Ford is offering the Mach 1 in seven distinct colours; Fighter Jet Grey (Appearance Package only, shown above), Grabber Yellow, Iconic Silver, Oxford White, Race Red, Twister Orange, and Velocity Blue. These can be paired with black accent stripes with highlights in red, white, or orange (for Appearance Package only).
The 2021 Mustang Mach 1 is scheduled to arrive in the US and Canada from the second quarter of next year. It doesn't look like any examples will be heading to Australian showrooms, unfortunately.