Testing of the next-gen 'G80' 2020 BMW M3 must be drawing closer to the end now. Some prototypes were recently spotted on the Nurburgring, with some camouflage peeled away since the last time we saw them.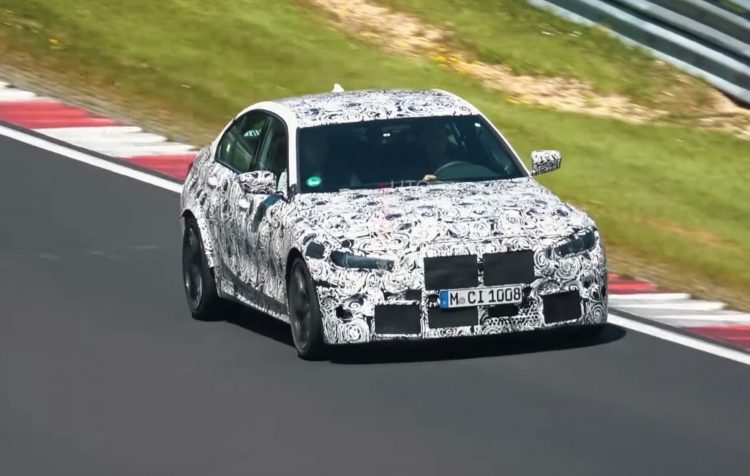 In the video below we see at least four different number plates, which likely means engineers are in the thick of testing and development, running a fleet of test mules. According to reports BMW isn't set to unveil the new model until next year, following the launch of the new 3 Series Touring wagon and all other variants, including the 330e hybrid and M340i.
As far as we know BMW M will be enlisting its new S58 3.0-litre twin-turbo inline-six engine for the new M3 and M4. We saw this unit debut in the X3 M and X4 M, where it produces 353kW in regular form, and 375kW in Competition form. We suspect these outputs will be very close if not identical for the M3.
Like the X3 M, the G80 is set to come with an eight-speed automatic transmission using a torque converter. This would replace the existing M3's seven-speed dual-clutch auto. We saw a similar thing with the latest M5, which switched from a dual-clutch to a conventional torque converter auto.
From there things go a little hazy. Some speculations suggest BMW will be moving to an all-wheel drive system for the next M3 – the prototypes below seem to have a lot of grip as well. But don't worry, even it does there's likely to be a rear-wheel drive mode like in the M5. However, if it is equipped with all-wheel drive it will be difficult for engineers to reduce or at least maintain the overall kerb weight.
Likewise, there is talk of a manual transmission option but official word is yet to confirm. BMW might end up offering a manual for the regular 'Pure' variant, while reserving the auto for the high-boost 375kW Competition versions.
As mentioned, we might not see the finished product until next year, perhaps at the 2020 Geneva Motor Show in March. In the meantime we'll just have to keep dreaming and imagining, using these spy videos for assistance. Check it out below.