Following a number of teasers and spy videos, the all-new 2020 Mercedes-AMG A 45 has finally been revealed. It comes in as the most powerful production hot hatch ever. The new CLA 45 AMG debuts as well.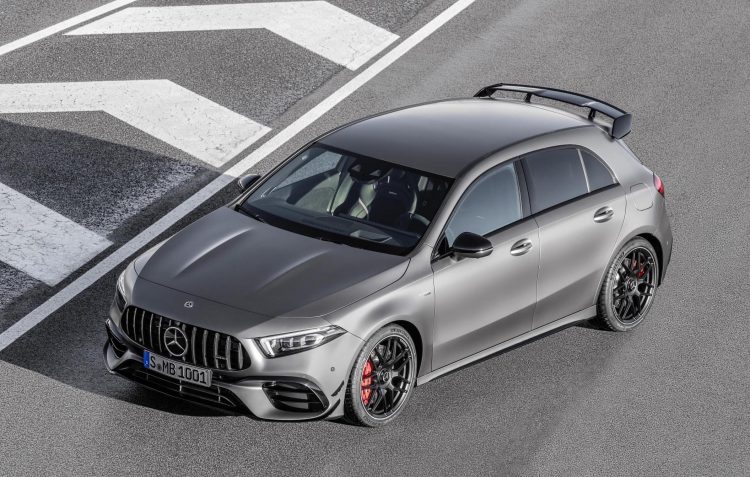 Two versions are being introduced, including the A 45 and CLA 45, and the A 45 S and CLA 45 S. All are powered by a new 'M139' 2.0-litre turbo four-cylinder engine. The base model produces 285kW and 480Nm, while the S model unleashes 310kW and 500Nm.
As you can imagine, the performance on the road is mental. All of the power is sent through a quick-shifting eight-speed dual-clutch automatic and into a fully variable 4Matic all-wheel drive system, with AMG Torque Control.
With the AMG Torque Control, drive can be directed between not only the front and rear wheels, but also left and right sides. Depending on the drive mode selected, the system promises optimum traction at all times for the given circumstances. For the S models, there's also a Drift mode (optional with the Dynamic Plus pack for the base models).
Speaking of drive modes, there are quite a few to go through. There's Slippery, Comfort, Sport, Sport+, Individual, and Race, in the S models. And then there's modes for the AMG Dynamics which covers things such as stability control, ranging from Basic (covers Slippery and Comfort modes), Advanced (activated in Sport), and Pro (for Sport+), and then Master (for Race mode).
As for the straight-line acceleration, 0-100km/h comes up in a claimed 4.0 seconds for the standard model, and just 3.9 seconds in the S. This means it is 0.2 of a second quicker than the outgoing 280kW model, or 0.3 of a second in the case of the new S. In regards to the CLA, the times are 4.1 seconds and 4.0 seconds, respectively.
Lastly, the packaging. All models come with an aerodynamics kit for the exterior, including a front splitter, side skirts, and a rear diffuser that encompasses quad-outlet exhausts (slightly larger tips on the S). The standard models wear 18-inch alloy wheels while the S models get 19-inch items.
Inside, passengers are treated to the usual sporty decor, with bucket seats wrapped in Artico man-made leather and Dinamica for the standard models, with Nappa leather for the S models. There's also the dual-screen MBUX media and vehicle interface system with full voice command via saying 'Hey Mercedes'.
The new model is set to go on sale later this. Australian prices and specs haven't been announced, but we'd expect only the S models to be available here.