This is the all-new 2020 Cadillac CT5. It comes in to replace the CTS as the GM luxury brand's new BMW 3 Series and Mercedes C-Class rival.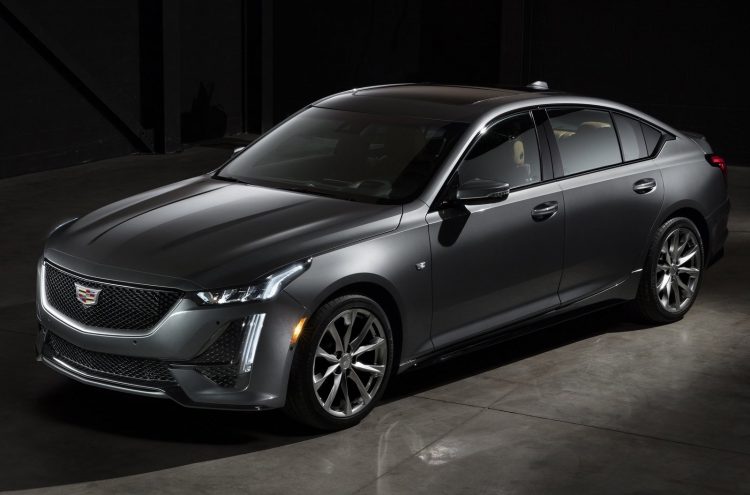 Let's start with the design. Cadillac seems to have applied an evolution of its current styling theme to the CT5, bringing in a wider front grille, slimmer headlights, and some darkened highlights for a more serious and somewhat sinister tone.
Around at the back are some new vertical taillights which are much thinner than those on the predecessor, matching the LED daytime running lights at the front. Overall, the CT5 looks much more elegant and sleek compared with the sharp and angular CTS.
Only initial specifications have been released so far as the new model will make its formal debut at the New York Auto Show in April. However, Cadillac confirms buyers will be offered a 2.0-litre turbo four-cylinder and a 3.0-litre twin-turbo V6.
Power outputs haven't been confirmed but Cadillac says they will both be matched to a 10-speed automatic transmission, with the V6 coming with "unique sound calibrations". Whatever that means. As a guide, the outgoing CTS was offered with a 2.0L turbo that produced 203kW, while the larger CT6 is offered with a 3.0L twin-turbo V6 that develops 301kW.
The company seems to have focused a lot on stimulating the senses with the new model, and says it has created a number of ASMR-style videos for a new social media campaign for the car. Brandon Vivian, Cadillac executive chief engineer, spoke about the car in a statement, saying:
"Sound leaves a lasting impression, and that's why it is such a focus for this vehicle. With standard sound optimisation and active noise cancellation, our goal is to deliver a world-class cabin experience with a Cadillac-exclusive curated sound library."
Passengers are treated to a luxurious cabin that looks like it will feature plenty of wood veneers, while audio is played through Bose Performance Series speakers.
Media functions are set to be controlled via a large touch-screen display, although, only one interior image has been revealed at this stage. The sole image shows some sort of rotary hand controller on the console, which likely operates the interface.
More details will be revealed at the New York show which opens to press on April 17. Market entry is expected shortly after.