This is it. The all-new 2020 Bentley Flying Spur. It's being described as 'sports sedan meets luxury limousine,' offering both immense power and serene luxury.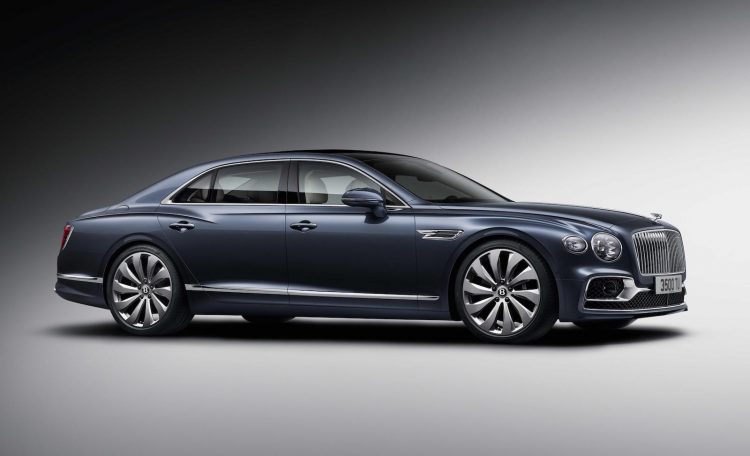 Let's start with the power. Under the long, lustrous bonnet is a 6.0-litre twin-turbo W12 engine that produces an empowering 467kW and 900Nm. This is then sent through a dual-clutch eight-speed auto transmission and into an active all-wheel drive system.
Nail the throttle and Bentley says you'll achieve 0-100km/h in just 3.8 seconds. It'll then soar on to a top speed of 333km/h. These figures make it the fastest Flying Spur yet.
Unlike the predecessor which used a permanent all-wheel drive system with a fixed 40:60 torque-split between the front and rear axles, the new model's all-wheel drive system utilises a clutch system which provides rear-wheel drive for most of the time. It's only when slip is detected that power is sent to the front wheels.
As a result, turn-in response is "dramatically improved" according to Bentley. The front end is also much lighter and is swifter to change directions. Bentley says the understeer often associated with constant all-wheel drive systems is pretty much eliminated. Fuel economy is obviously optimised as well.
For the first time on a Bentley production car, the 2020 Flying Spur comes with electronic all-wheel steering as previewed a couple of weeks ago. During low speed turns the rear wheels steer in the opposite direction to the front to improve agility, while at higher speeds the rear wheels turn in the same direction as the front to help with stability.
Speaking of the handling, the new model features a new three-chamber air spring suspension system. These contain 60 per cent more air volume than the previous setup, allowing a wider range of versatility between sportiness and pure comfort. The Dynamic Ride System is connected up to the 48-volt electrical architecture.
Inside it's a blend of elegance and luxury, as well as hidden technology. There's a 12.3-inch digital display that offers touch functionality, and it can be configured in wide-screen, 2:1 split-screen, or a display for three different functions. It can also be hidden away. The rest of the dash is presented in a wrap-around style with fine wood and leather cocooning the passengers.
Buyers have a choice of three different audio systems, including a standard 650W 10-speaker unit, or a 1500W Bang & Olufsen 16-speaker unit, or, if these aren't enough, a Naim for Bentley 2200W 19-speaker system with Active Bass Transducers (whatever they are). Either way, we're sure all of them sound marvellous.
The 2020 Bentley Flying Spur will be available to order from the third quarter of this year, with deliveries scheduled to commence early next year. Speaking about the new model, Adrian Hallmark, chairman and CEO at Bentley, said:
"As with the launch of the Continental GT, the new Flying Spur is a ground up development that pushes the boundaries of both technology and craftsmanship to deliver segment-defining levels of performance and refinement."
See below for the key specifications:
Technical Specifications*
Engine
Configuration
6.0-litre twin-turbocharged W12 TSI
Capacity
5950cc
Induction
2x twin-scroll turbochargers, direct intercooling
Power
467 kW
Torque
900 Nm
Bore x stroke
84 mm x 89.5 mm
Top speed       
207mph (333km/h)
0-60 mph
3.7 s
0-100 kph
3.8 s
General Data and Dimensions
Length
5316 mm
Width
1978 mm
Height
1484 mm
Wheel-base:        
3194 mm
Vehicle Weight
2437 kg unladen