Refreshed and ready to go, the 2020 Audi R8 Coupe and Spyder will launch in Australia next month, offering a 0-100km/h sprint in as little as 3.2 seconds. Needless to say, the R8 is the quickest Audi in the showroom.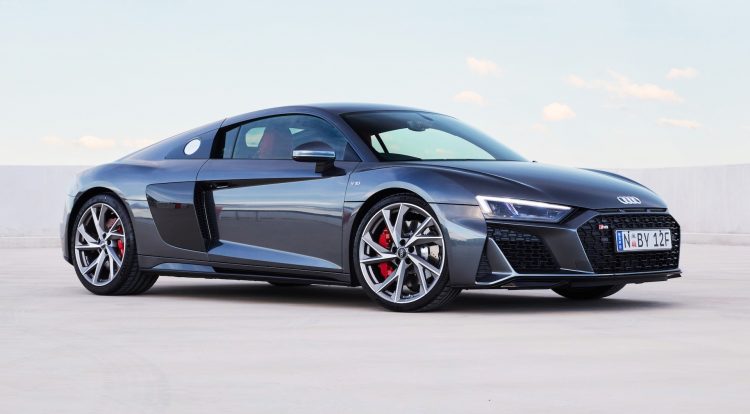 Two main variants will be offered locally, including the V10 RWD and the V10 Performance quattro. Customers can then select between the coupe or the drop-top Spyder. Both use a seven-speed S tronic dual-clutch auto transmission for super-fast gear changes.
Powering the V10 RWD is a 5.2-litre naturally aspirated V10 that screams out 397kW at 7800rpm, and 540Nm at 6500rpm. This, as the name suggests, is sent to a rear-wheel drive system. Even so, Audi claims 0-100km/h comes up in just 3.7 seconds, or 3.8 for the Spyder version.
Over in the V10 Performance quattro is a tweaked version of the same motor. It develops a much more serious 449kW at 8250rpm, and 560Nm at 6500rpm. With the boost in power and all-wheel drive, the 0-100km/h time is slashed to just 3.2 seconds, or 3.3 seconds in the Spyder.
The 2020 R8 is built on a lightweight Audi Space Frame concept, with the body itself (of the coupe) weighing just 200kg. It's made predominately from aluminium and carbon fibre. There's also a new carbon fibre front stabiliser bar saving 2kg, as well as a number of other lightweight measures. In RWD V10 coupe form the supercar weighs 1595kg.
That might sound pretty heavy compared with some supercars, however, the R8 is also about refined luxury and comfort. As such, the cabin features a 12.3-inch digital instrument cluster with full media and sat-nav capability, while tunes are played through a 550W Bang & Olufsen 13-speaker sound system.
Going for the V10 Performance quattro adds an exclusive gloss carbon exterior package, with carbon fibre trimmings inside, Nappa leather and an Alcantara roof liner, and a set of unique 20-inch milled alloy wheels. The wheels hide 19-inch ceramic brakes (not featured on the RWD) with six-piston front and four-piston rear calipers.
The new model will be available to order through dealerships or via Audi's online platform soon, with the official arrival scheduled for July 24. See below for the starting prices (excludes on-road costs):
2020 Audi R8 V10 RWD Coupe: $295,000
2020 Audi R8 V10 RWD Spyder: $316,500
2020 Audi R8 V10 Performance quattro Coupe: $395,000
2020 Audi R8 V10 Performance quattro Spyder: $416,500