Following up from last week's reveal of the 2019 Ford Ranger, Ford Australia has now confirmed starting prices and market entry details. The new model is supported by Ford's recently-announced five-year/unlimited kilometre warranty plan.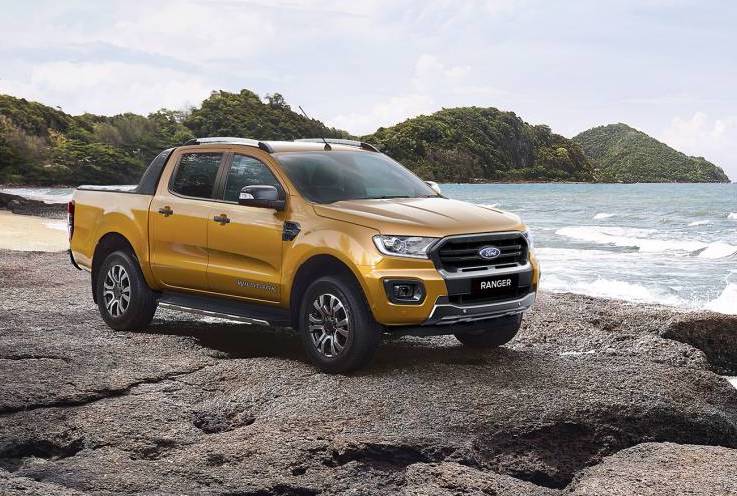 The new lineup is split into two main vehicle types, including 4×2 and 4×4. These are then split up in trim lines spanning from Ranger XL, XLS, XLT, to the top Wildtrak model. Some of the upper-end versions of these are available with the new 2.0-litre twin-turbo diesel four-cylinder engine.
Most of the 4×2 versions come equipped with the existing 2.2-litre turbo-diesel four-cylinder, which produces 118kW and 385Nm. However, the 4×2 XLT pickup Hi-Rider is available with the 3.2-litre turbo-diesel five-cylinder unit that develops 147kW and 470Nm, as well as the new twin-turbo developing 157kW and 500Nm.
Almost all of the 4×4 models continue with the 3.2L except the XL double cab which use the 2.2. Even the Wildtrak continues to be offered with the 3.2L as standard, or buyers can add $1200 to the bill and get the new twin-turbo unit.
Aside from the engines, some new features have been added to various models. There's an easy-lift tailgate for the XL, along with updated suspension and rear parking sensors for the pickup models. The cabin has been restyled slightly in the XL, with ebony added and new decorative finishes.
Front parking sensors are added to the XLS, with the XLT receiving a new-look front grille and fascia area, with added HID headlights, LED daytime lights, smart keyless entry, and auto stop-start for non-3.2L auto versions. The top Wildtrak sees similar updates, with a power lock tailgate, new-look front end, traffic sign recognition, LED fog lights, and autonomous emergency braking with pedestrian detection as standard.
The 2019 Ford Ranger will officially go on sale in Australia in September. See below for the starting prices (excludes on-roads):
| | |
| --- | --- |
| Ranger 4×2 | MY19 |
| 4×2 XL Single C/C 2.2L Low Rider MT | $27,990 |
| 4×2 XL Single C/C 2.2L Hi-Rider AT | $33,690 |
| 4×2 XL Super C/C 2.2L Hi-Rider AT | $36,190 |
| 4×2 XL Double C/C 2.2L Hi-Rider AT | $38,190 |
| 4×2 XL Double P/up 2.2L Hi-Rider AT | $39,690 |
| 4×2 XLT Double P/up 3.2L Hi-Rider AT | $50,290 |
| 4×2 XLT Double P/up 2.0L Bi-Turbo Hi-Rider AT | $51,490 |
| Ranger 4×4 | |
| 4×4 XL Single C/C 3.2L MT | $41,890 |
| 4×4 XL Single C/C 3.2L AT | $44,090 |
| 4×4 XL Super C/C 3.2L MT | $44,390 |
| 4×4 XL Super C/C 3.2L AT | $46,590 |
| 4×4 XL Super P/up 3.2L AT | $48,090 |
| 4×4 XL Double C/C 2.2L AT | $46,090 |
| 4×4 XL Double P/up 2.2L AT | $47,590 |
| 4×4 XL Double C/C 3.2L MT | $46,390 |
| 4×4 XL Double C/C 3.2L AT | $48,590 |
| 4×4 XL Double P/up 3.2L MT | $47,890 |
| 4×4 XL Double P/up 3.2L AT | $50,090 |
| 4×4 XLS Double P/up 3.2L MT | $49,190 |
| 4×4 XLS Double P/up 3.2L AT | $51,390 |
| 4×4 XLT Super P/up 3.2L AT | $56,190 |
| 4×4 XLT Super P/up Bi-Turbo AT | $57,390 |
| 4×4 XLT Double P/up 3.2L MT | $55,990 |
| 4×4 XLT Double P/up 3.2L AT | $58,190 |
| 4×4 XLT Double P/up Bi-Turbo AT | $59,390 |
| 4×4 Wildtrak Double P/up 3.2L MT | $60,590 |
| 4×4 Wildtrak Double P/up 3.2L AT | $62,790 |
| 4×4 Wildtrak Double P/up Bi-Turbo AT | $63,990 |