The next-gen Audi A1 has been spotted in prototype form, undergoing tough winter testing in Scandinavia. It's set to (finally) shift to VW Group's more modern MQB platform, switching from the current 10-year-old PQ25-based layout.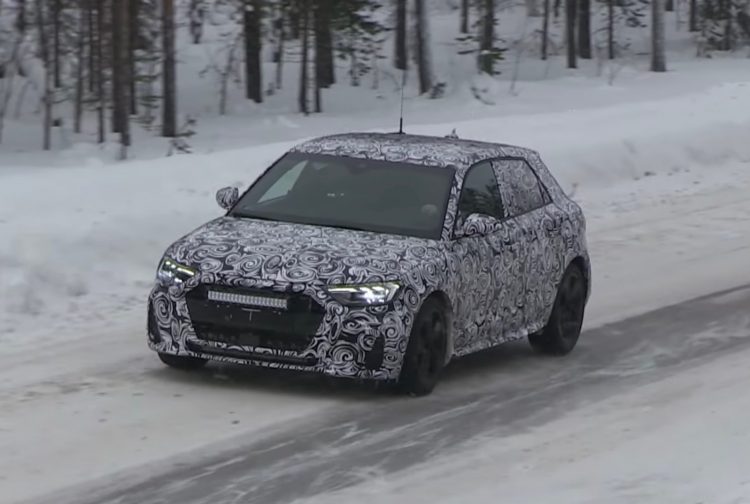 Audi has been selling the A1 in pretty much the same form, albeit with some mild tech and trimming updates, since 2010. Along the way the luxury brand has launched a few revisions including introducing the S1 Sportback hot hatch in 2015.
For the second-generation model Audi is set to adopt the MQB AO platform which is expected to see decent jumps in driving dynamics, refinement, and weight optimisation. With better packaging and space efficiency, there's also likely to be a smidge more cabin space.
According to reports the 2019 A1 will grow slightly, presenting bigger external dimensions with apparently 94mm added to the wheelbase. By the looks of the prototypes in the video below, the new model will showcase a fresh design inspired by some of Audi's latest models.
At the front you might notice the new-look LED headlights with two main beams surrounded by some daytime running lights. There's also a huge inverted grille which pretty much dominates the face, while down the sides the A1 actually appears to have lost some of the elegant and sporty body lines and instead goes for a flatter, somewhat boring panel contour.
It's understood Audi is dropping the three-door body style option for the second-gen model, using a five-door layout as the standard configuration. This could help emphasise its more practical focus compared with its main rival, the three-door MINI Cooper.
Some big technology advances are likely, with things like 4G LTE connectivity inside with Android Auto and Apple CarPlay replacing the aged system in the current model. A virtual cockpit, also known as a digital instrument cluster, will probably be equipped to the upper variants or at least feature on the options list.
Meanwhile, under the bonnet we can probably turn to the new VW Polo for some indication, with the range set to kick off with a 1.0-litre turbo three-cylinder petrol unit. A 1.5 turbo will replace the current 1.4, and the flagship S1 is tipped to receive a newer 2.0-litre turbo producing up to 187kW (up from 170kW of today's model).
A full debut is expected in the next few months with market entry in some parts of Europe penned in for later this year. Check out the spy video below for a preview.