Images of what appears to be the 2018 Toyota Prado have hit the web again, this time revealing the new-look model in full for the first time.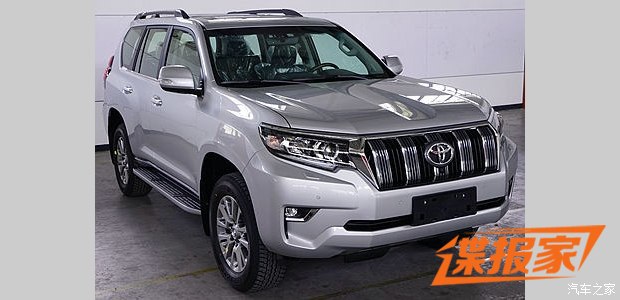 The front end was leaked earlier this year, showing the new-look vertical grille. These images, originally published by Auto home, show the body design in full. It's unclear if this is the look for the JDM model only.
At the front the facelift is most obvious, with a big vertical grille as revealed earlier, along with slimmer techy-looking headlights, and an all-new front bumper bar with chunky contours.
Around at the back are some 3D-style taillights, as well as a newly designed bumper bar. There's also a spare wheel mounted on the tailgate on some variants, and some relocated fog lights.
For the interior it looks like Toyota has fit up a new touch-screen interface said to be of 8.0 inches in size, while the centre fascia takes on a fresh T-shaped design. Lower down on the fascia the climate control panel and off-road driving controls are also new, highlighted by silver trimming at least on the upper variant.
Toyota is expected to introduce a range of advanced safety technologies with the 2018 model, including Toyota Safety Sense with autonomous emergency braking, with some variants to be offered with radar cruise control. Lane assist and blind-spot assistance are also likely.
In terms of the powertrains, official details are yet to be confirmed but it's believed Toyota will carry over the existing 2.8-litre turbo-diesel four-cylinder and 4.0-litre petrol V6. Some markets also get a 2.7 option.
A full review is expected any day now, as these images show Toyota has well and truly finished the design and development.