This is it. The new Subaru BRZ STI. Well, technically it's called the BRZ tS, tuned by STI. But it looks like this is the closest we'll get to a proper STI version.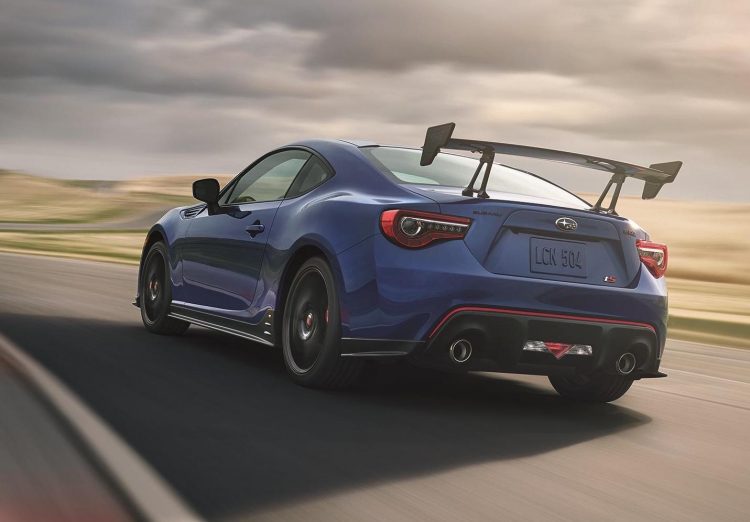 Ever since the BRZ and Toyota 86 duo debuted a few years ago, fans have longed for a higher performance version. Subaru has the potential to apply its STI name and according experience, while Toyota has TRD. However, there has been no sign of a bespoke model becoming available.
Americans will soon be offered the next best thing though with the tS. It's like the Forester tS that was available in Australia last year. The keyword being 'tuned by' STI.
Instead of a turbo engine or any engine tuning, it comes with pretty much everything else STI usually offers on its cars. There's an impressive aero kit complete with a big adjustable rear wing, made from carbon fibre, along with side skirts and under-spoilers, and a more aggressive front end. STI fog light covers replace the regular fog lights for that racy look.
Handling has been improved with the introduction of Sachs dampers tuned by STI, new coil springs, and a sturdy V-brace to reinforce front end rigidity. Some further bracing has been added to the chassis too, to heighten steering response.
To further improve grip a set of 18-inch lightweight STI wheels wrapped in 215/40 Michelin Pilot Sport 4 tyres are implemented. Brembo brakes complete the package, fitted for the front and rear axle.
For the passengers there's a set of sports bucket seats with black leather and Alcantara upholstery, contrast red stitching, knee pads, and tS embroidery for the headrests. Front passengers are also treated to red seat belts.
Subaru America will be offering the special edition in three colours, including WR Blue Pearl, Crystal Black Silica, and Crystal White Pearl. Distribution to dealers will commence in the first quarter of 2018.