Following its arrival in Australia in 2015, Mazda is introducing the model year 2018 update for the fun-loving MX-5 sports car. It brings in a range of dynamic, styling, and refinement changes.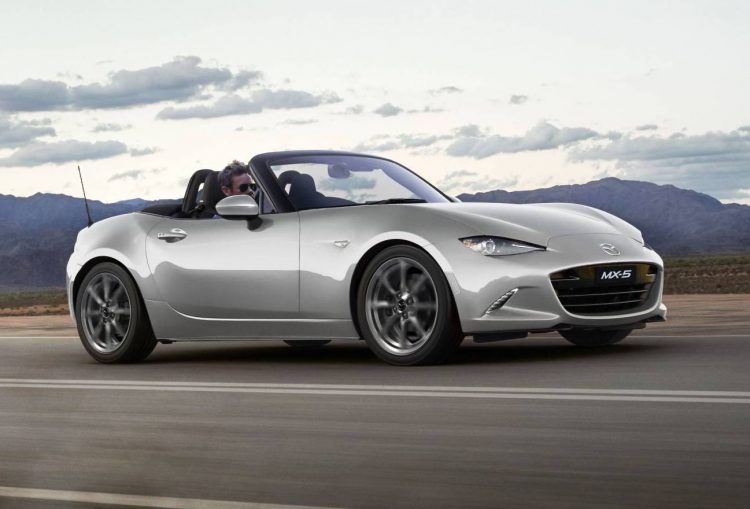 Starting with the hardware. Mazda has fine-tuned the rear suspension for a more comfortable ride, with the upper-link bushings lowered, while the rear bump stops are lengthened so they come into effect a little earlier in the compression range.
A number of sound insulation changes have helped improve noise and vibrations in the cabin, with reduced wind noise helping to make the MX-5 an even more suitable grand touring vehicle or one for weekend getaways. Extra material has been added over the centre tunnel, with reduced gaps and holes around the dash for reduced noise.
To help with safety, the GT variant receives lane departure warning and adaptive LED headlights. The lane departure warning system uses a windscreen-mounted camera to monitor lane markings, while the LED headlights offer flare-free beams and a wider field of vision.
Lastly, Mazda Australia is announcing a few new colour options. Soul Red Crystal metallic is now available, while Machine Grey Metallic is available for the soft-top variants. A new bright aluminium colour is on offer for the 16-inch alloy wheels on the 1.5L GT model as well.
There are three main variants of the 2018 model, including the 1.5L soft-top, the 2.0L soft-top, and the 2.0L RF hard-top which is also topped off by a new Limited Edition version equipped with Recaro seats. Mazda Australia managing director Vinesh Bhindi said:
"The MX-5 carries a promise of fun, and the upgraded fourth generation model certainly upholds this. The enhancements and added equipment are another phase in its constant evolution, which is testament to Mazda's endless pursuit of achieving driving pleasure."
The new model is on sale now from the following prices (excluding on-road costs). Some prices have climbed marginally and some have be cut by up to $1320.
| | | | |
| --- | --- | --- | --- |
| MODEL | TRIM | MLP | OLD MLP |
| 1.5L Soft-top Roadster 6MT | Black cloth | $33,440 | $33,340 |
| 1.5L Soft-top Roadster 6AT | Black cloth | $35,440 | $35,340 |
| 1.5L Soft-top Roadster GT 6MT | Leather | $39,660 | $38,340 |
| 1.5L Soft-top Roadster GT 6AT | Leather | $41,660 | $40,340 |
| 2L Soft-top Roadster 6MT | Black cloth | $34,950 | $34,850 |
| 2L Soft-top Roadster 6AT | Black cloth | $36,950 | $36,850 |
| 2L Soft-top Roadster GT 6MT | Leather | $41,210 | $39,890 |
| 2L Soft-top Roadster GT 6AT | Leather | $43,210 | $41,890 |
| 2L RF 6MT | Cloth | $38,650 | $38,550 |
| 2L RF 6AT | Cloth | $40,650 | $40,550 |
| 2L RF GT 6MT | Leather | $45,210 | $43,890 |
| 2L RF GT 6AT | Leather | $47,210 | $45,890 |
| 2L RF GT Black roof 6MT | Nappa leather | $46,210 | $44,890 |
| 2L RF GT Black roof 6AT | Nappa leather | $48,210 | $46,890 |
| 2L RF Limited Edition6MT | Recaro seats | $52,210 | N/A |