Official images of the recently-previewed 2018 Infiniti QX50 have surfaced online ahead of the SUV's debut at the Los Angeles auto show next week. The QX50 will be the luxury brand's rival to the Audi Q5 and BMW X3 and so on.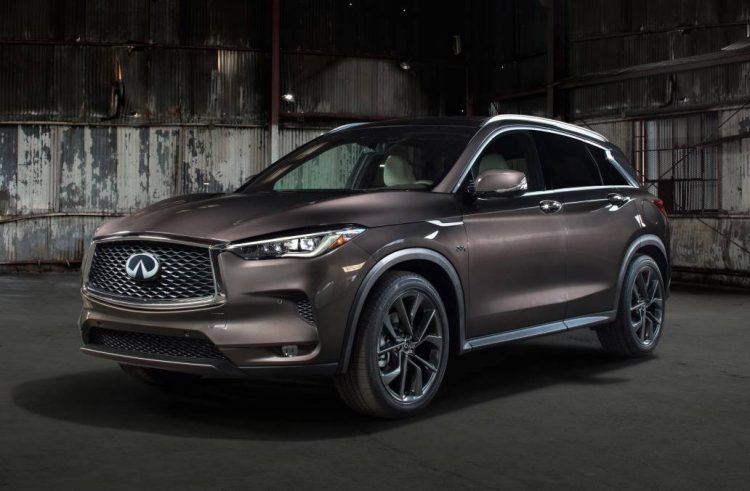 Only a single image has been released but it shows the new SUV heavily inspired by the concept of the same name, which was unveiled earlier this year. It adopts Infiniti's latest styling language, called Powerful Elegance, with a sophisticated front end and pouncing wheel arches.
Underpinning the new model is a an all-new platform, Infiniti says, consisting of a front-wheel-drive-based configuration. According to the company, the platform sets "new standards for refinement, rigidity and interior space" in the medium SUV segment. It's built using an industry-first SHF (Super High Formability – 980 MPa) high-tensile steel.
Perhaps the biggest news for the new model is the introduction of the world's first variable compression ratio engine. It's a 2.0-litre turbocharged petrol four-cylinder that is able to vary its compression ratio between 8.0:1 to 14.0:1. It does this through a unique multi-link mechanism that is able to raise or lower the pistons' reach. In doing so, the engine can offer optimum performance or efficiency.
The advanced engine produces 200kW and 380Nm, with an average fuel consumption figure of 8.7L/100km in front-wheel drive form and 9.0L/100km in all-wheel drive form. Strangely, these figures aren't actually that impressive compared with similar petrol rivals.
Another new technology that debuts with the QX50 is the latest ProPILOT Assist system. It consists of functions that help the driver accelerate, brake and steer the car in single-lane highway driving conditions, providing autonomous-like functionality, activating at the push of a button.
The new model will go on sale next year following its public debut at the LA auto show next week. Speaking about the SUV, Christian Meunier, Infiniti global division vice president, said:
"The QX50 is the most important vehicle we have ever launched, and it embodies everything the brand stands for: Beautiful design, advanced technology and empowering performance. As a premium, mid-size SUV. It's the right vehicle at the right time in one of the world's fastest growing segments."