At its launch in June, Suzuki said the all-new 2017 Swift was gunning for best-seller status in the light segment. A very tall order. Two months on and it is sitting in fifth spot, behind Hyundai Accent, Mazda2, Toyota Yaris, and Kia Rio, for a decent 5.8 per cent market share, but well short of Suzuki's ambition. It is early days though. Should we expect it to be in front soon?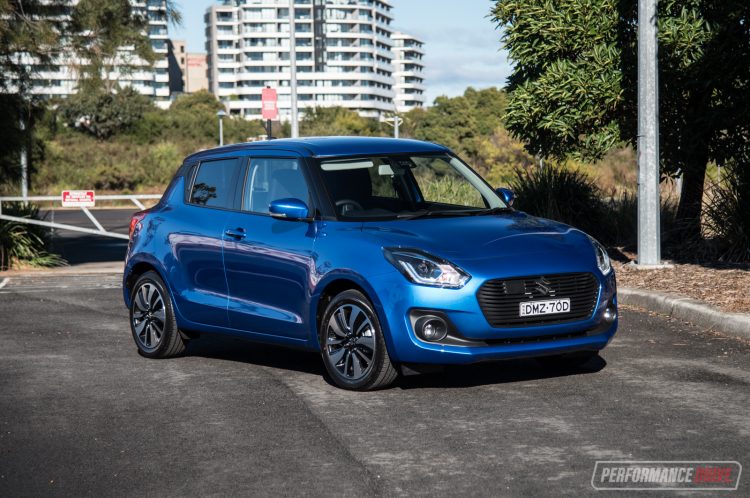 Although design-wise it is an evolution of its predecessor, the 2017 Swift migrates to a new 'Heartect' platform, with new powertrains and all-new levels of standard features and technology.
For this review we're focusing on the $22,990 Swift GLX Turbo flagship, which swaps the 1.2-litre, 66kW/120Nm four-cylinder engine for a neat 1.0-litre turbo triple, with a more substantial 82kW and 160Nm. It also comes with a six-speed automatic compared with the CVT offered in lesser variants.
2017 Suzuki Swift GLX Turbo – THE SPECS
Engine: 1.0-litre turbo three-cylinder
Output: 82kW@5500rpm / 160Nm@1500-4000rpm
Transmission: Six-speed auto
Drive type: Front-wheel drive
Wheels: F & R: 16×6.0, 185/55
ANCAP: Not tested (previous model 5 stars)
Tare weight: 925kg
Power-to-weight: 11.28:1 (kg:kW)
Official fuel economy: 5.1L/100km
Economy during test: 5.9L/100km
Fuel capacity/Type: 37L/95 RON
Power efficiency: 16.07kW:L/100km
0-60km/h: 4.21 seconds*
0-100km/h: 10.09 seconds*
60-110km/h: 7.72 seconds*
1/8 mile: 11.09 seconds at 105.2km/h*
1/4 mile: 17.12 seconds at 130.9km/h*
100-0km/h braking: 3.07 seconds at 40.60 metres*
Decibel at idle: 46*
Peak decibel at 60-100km/h: 79*
Priced from: $22,990
* Figures as tested by PerformanceDrive on the day. Factory claims may be different

2017 Suzuki Swift GLX Turbo – THE PACKAGE
The all-new Swift is most comparable to the Mazda2, in that it offers a sporty character compared with the more staid Toyota Yaris and Kia Rio, for example, which still use four-speed automatics. Significantly lighter than the outgoing vehicle, the GLX is a featherweight at 925kg. This is city car light.
For reference, the equivalent Mazda2 Genki is 1058kg. That car is also longer in both overall length and wheelbase than the 3840mm, 2450mm efforts of the Swift, which is wider at 1735mm versus 1695 for the Mazda. The 242L boot expands to a versatile 918L with the rear seats down.
Sitting at the top of the range (for now, until the Sport arrives), the GLX comes loaded with standard equipment and even some class firsts such as radar cruise control. Navigation, smartphone mirroring, autonomous emergency braking, and climate control are just some of the additions that make this a stand out.
Interior design is modern, funky and sporty with highlights including the instrument binnacle, steering wheel and round vents giving it attractive, younger-generation appeal. Material quality is not particularly inspiring, as expected for this class, and the ebony plastic trim insert running across the dash is, umm, interesting.
Operating the touch-screen and capacitive touch volume can be annoying as we feel the old-fashion twist-knob is quicker and less distracting, while the navigation system is far from being the easiest to understand. It demands familiarity, lest you miss some tricky turns. Of course, featuring navigation at all is a big bonus for a car of this caliber and price.
The upright cabin design yields perceptibly more shoulder and legroom than the Mazda2, but not as much as the Honda Jazz, for example. There are plenty of storage options around the cabin, with cup holders in the front, door pockets, and a mobile phone tray. A sneaky cup holder is placed at the rear of the centre console for the rear passengers to share.

2017 Suzuki Swift GLX Turbo – THE DRIVE
The light weight nature of the Swift is immediately apparent when driving. The nicely weighted steering combines with its litheness to make the GLX feel very nimble. A torquey and characterful triple has effortless power all through its rev range, married to an intuitive six-speed auto with paddle shifters. The paddles are a sporty addition, but the early automatic upshifts can spoil the fun. Best to leave it in drive and let the torque do the work.
Through hard cornering, the Swift is eager and poised with turn-in and grip levels befitting its sporty persona. It must be said that its arch rival has superior steering feel and feedback and is slightly more entertaining overall, but the Swift is right up there among the rest of the frontrunners.
A pleasant note emanates from the three-cylinder donk, which gives a level of shove that you could equate to warm hatch levels. A 0-100km/h time of 10.09 seconds with a quarter mile of 17.12 attests to this claim. We experienced average fuel economy of 5.9L/100km against the official rating of 5.1. This is exceptional and an area where Suzuki has always shone bright.
Despite not having a local tuning division, Suzuki has struck an impressive ride and handling balance with the Swift GLX. Impressive refinement is only hampered by some faint wind noise at cruising speeds from the thin-feeling sides and a slightly thrummy idle reminiscent of a four with a misfire.
On the freeway, the engine's torque and well-chosen ratios of the slushbox give an almost large car-esque amount of low-rev effortlessness. When used in conjunction with the radar cruise control and forgiving steering with no 'sneeze factor' the Swift feels very grown up and mature. However, encountering a bridge with cross winds can be disturbing, like in many vehicles in this class.
Although the Swift hasn't been crash tested by ANCAP yet, its predecessor managed a five-star rating, and the addition of autonomous emergency braking and a more rigid bodyshell can only bolster that. Speaking of the AEB, it is quite overzealous, beeping and screaming maybe a bit more than it should, but in this day and age, with everyone welded to their smartphones, it's better to be safe than sorry.

2017 Suzuki Swift GLX Turbo – THE VIDEO
2017 Suzuki Swift GLX Turbo – THE VERDICT
A substantial re-engineering effort from Suzuki has resulted in the lightest car in its class, but one with a driving experience that, for the most part, backs up its frisky looks. The three-cylinder engine does feel special – although you wish that a manual gearbox could be paired with it – and full of character, with relaxing freeway finesse making it surprisingly relaxing and very practical to drive.
That Suzuki has managed to incorporate so much safety, technology, fun and style into a car that is substantially lighter than the competition is nothing short of wizardry. It has us salivating at the prospect of the upcoming Swift Sport, to which most rivals, including Mazda2, are unlikely to have an answer for.
PROS:
– Light weight
– Modern styling
– Standard in-car tech
– 1.0L engine is full of character
– Six-speed auto welcome alternative to CVT in GL
– Unique-to-class active cruise control as standard
– Amazing real-world economy
CONS:
– Not quite as engaging or dynamic as Mazda2
– Infotainment system has its flaws
As always, if you're thinking about buying a new car don't forget to click here to speak with our car buying specialists.