The almighty Nissan GT-R Nismo has arrived in Australia, joining the range as the most potent and fastest Nissan in the showroom. It's also the first factory Nismo product to join the local market.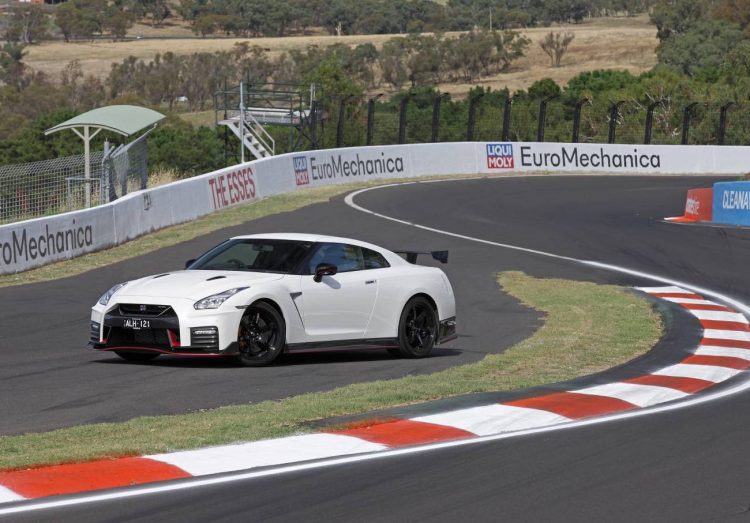 Based on the MY2017 GT-R, the Nismo version gets extensive tuning in almost every area. The 3.8-litre twin-turbo V6 engine is boosted to produce 441kW of power and 652Nm of torque (22kW and 20Nm from standard), sent through a six-speed dual-clutch transmission with all-wheel drive (ATTESA E-TS). This translates to awesome track performance, with earlier versions setting a Nurburgring lap time of just 7:08.679.
Additional performance features over the regular GT-R include Nismo suspension with Bilstein DampTronic dampers providing additional roll stiffness, increased body rigidity through spot welding and adhesives, and eye-popping Brembo brakes with 390mm front and 380mm rear full-floating discs.
The wheels are six-spoke RAYS 20-inch items made from forged aluminium derived from those on the GT500 race car in Japan, while the body features vast aerodynamic enhancements with carbon fibre wings, a wider front bumper bar, and a chunky rear diffuser. Despite offering increased downforce, the Nismo keeps its drag coefficient of 0.26.
Inside, the lucky passenger and driver are treated to "ergonomically sculpted" Recaro bucket seats trimmed in leather and grippy Alcantara, while the driver gets a bespoke three-spoke steering wheel also covered in Alcantara, with Nismo gauges through the middle. There's also a full touch-screen media interface with graphics provided by the makers of the Gran Turismo PlayStation game, with convenience such as sat-nav, special performance apps and data-logging, and Bluetooth connectivity.
As a bonus, the interior also packs in an 11-speaker Bose sound system which was designed specifically for the GT-R cabin. There's two forward-facing woofers in the back, and a die-cast aluminium panel for all other speakers for perfect acoustics.
The 2017 Nissan GT-R is already on sale in Australia, with the Nismo version now added to the lineup. See below for starting prices (excludes on-road costs):
2017 Nissan GT-R Premium Edition – $189,000
2017 Nissan GT-R Premium Edition with Luxury Trim – $195,000
2017 Nissan GT-R Track Edition Engineered By NISMO – $227,000
2017 Nissan GT-R NISMO – $299,000