Ever since its 2012 introduction, the third-generation Mazda6 has won praise and found many homes in Australia thanks to its striking 'Kodo' design language, rigid yet playful chassis, and efficient SkyActiv engine range. It has established a character within the medium car segment as the sporty choice. This is in no small part to its sleek, almost rear-wheel drive form factor and above average driving dynamics.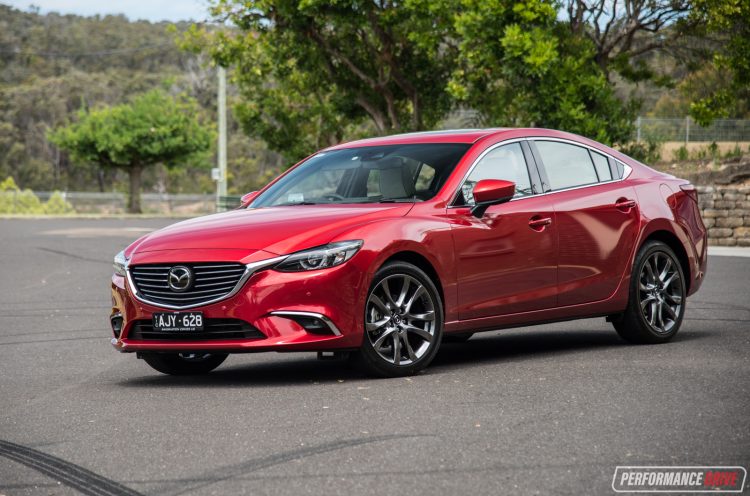 For the last two years running, the Mazda6 has comfortably outsold Subaru Liberty, Ford Mondeo, Honda Accord and Volkswagen Passat; everything except the Toyota Camry, in other words. But we don't want to give you narcolepsy so let's digress from that last one.
This mid-cycle enhancement is all about ironing out some of the 6's rough edges, particularly in relation to noise, interior ergonomics and adding some active safety features. There's even a clever new system to make it corner more smoothly, called G-Vectoring. Let's dissect what is class-leading about the 2016 Mazda6 and what isn't.
2017 Mazda6 Atenza – THE SPECS
Engine: 2.5-litre four-cylinder
Output: 138kW@5700rpm / 250Nm@3250rpm
Transmission: Six-speed auto
Drive type: Front-wheel drive, G-Vectoring
Wheels: F: 19×7.5, 225/45  R: 19×7.5, 225/45
ANCAP: Five stars (scored 35.44 out of 37)
Tare weight: 1425kg
Power-to-weight: 10.32:1 (kg:kW)
Official fuel economy: 6.6L/100km
Economy during test: 7.4L/100km
Fuel capacity/Type: 62L/91 RON
Power efficiency: 20.90kW:L/100km
0-60km/h: 3.93 seconds*
0-100km/h: 8.34 seconds*
1/8 mile: 10.58 seconds at 115.2km/h*
1/4 mile: 16.16 seconds at 142.4km/h*
100-0km/h braking: 2.99 seconds at 39.35 metres*
Decibel at idle: 40*
Peak decibel at 60-100km/h: 85*
Priced from: $45,390
* Figures as tested by PerformanceDrive on the day. Factory claims may be different

2017 Mazda6 Atenza – THE PACKAGE
The range opens at $32,490 for the Sport but here we're sampling the $45,390 top-spec Atenza sedan. A spacious wagon can be had for $1300 extra, and a diesel engine adds $2850 (excluding on-roads).
From the outside, the main give-away is its charcoal 19-inch alloys, but stepping inside our cream leather example makes a very strong impression. The new three-spoke steering wheel is a pleasure to hold and look at, with well-placed and nice feeling buttons, while the diversity of colour and materials is very upmarket and impressive.
The chrome accents on the doors and dash are augmented by titanium inserts and the stitched leather panel across the dash is a great surprise. Fit and finish is impeccable, with the contrast of colours and materials lifting the cadence to higher levels than you'd expect of this price and segment.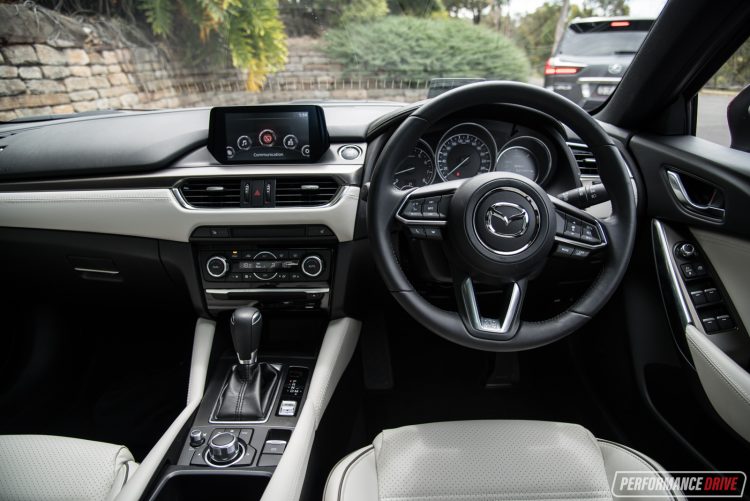 All of the controls are intuitive, such as the HVAC knobs and the outstanding MZD rotary controller that has to be rated as best-in-class for distraction-free driving – at least until Volkswagen introduces gesture control on the Passat.
The screen itself is decent but there are crisper and more appealing displays in the segment, especially how it's tacked onto the top of the dash and doesn't retract like, say, an Audi's.
The Atenza is lavishly equipped with a power sunroof, lovely Nappa leather seats with grey piping, eight-way power adjust for the driver seat, adaptive cruise control, an active safety suite including pedestrian detection, city emergency braking to 80km/h, and more. All 6's have a five-star ANCAP safety rating.
The heads-up display panel pops up from above the instrument cluster, with digital speed, active cruise info and traffic sign recognition (i.e. speed limit) displayed in remarkable clarity. If only it were adjustable for taller drivers' sight lines, it'd be perfect. Also, there is an option to switch it off but the panel doesn't actually retract back down.
The reverse camera with static guidelines which don't move with the wheel is a bit of a bummer if we're honest and no front parking sensors on such a cab-rearward car is also puzzling. These two niggles and the space saver spare tyre are the only evidence of corner cutting on the car, which is mildly disappointing.
Seat comfort is great with plenty of adjustment from the front seats and heating (but no cooling). Rear space is adequate most of the time, but over six-footers are advised to sit across every seat and make sure the sloping roofline isn't too close to their scalp. There's always the wagon for that anyhow, which also bests the sedan's 474L boot volume.
The 11-speaker BOSE audio system provides excellent bass, midrange and upper sound with distortion-free crispness at obnoxious volume, if you so desire.
2017 Mazda6 Atenza – THE DRIVE
Driving the 6, we're reminded of the strong attributes that have made it such a stand-out in the class. The long dash-axle ratio seems to make the steering lighter and far more eager to turn in than any rival can manage, while it is happy to telegraph some (not all) information back to you via the new three-spoke tiller.
The addition of G-Vectoring simply adds fluidity and makes it easier to tie bends together without upsetting the sense of balance. It handles competently and is very satisfying to steer but all the work seems to be done up front.
Don't get us wrong, the rear end stays planted and it feels like one, whole, solid car but the keenest drivers will, perhaps yearn for more adjustability from the rear end. Still, as far as bum-draggers go, this one remains the most satisfying to drive in this segment, especially since Mondeo has lost its edge.
Ride is firm but taut. You wouldn't call it terse, but the low-profile 19's of the Atenza certainly make some lower speed bumps more known. Aside from that, the ride is well damped and cabin noise is well suppressed – one area in which Mazda tried very hard for this upgrade. We'd stop short of calling it class-leading but it's more than acceptable in this league.
Which brings us to another unexpected highlight: the engine. The 2.5-litre SkyActiv petrol generates 138kW and 250Nm, to haul around 1507kg (1425kg tare). This doesn't seem electrifying on paper but you'll be surprised by its excellent throttle response in Sport mode. When almost all other rivals have resorted to turbocharging, Mazda's high-compression (13:1), high-tech approach goes against the tide, and you tend to be very thankful for it.
The four-cylinder engine is eager to rev, smooth and even has a nice bark to it at higher revs. When you ask it to get you out of the way, or fill a gap, it answers promptly while turbocharged rivals might still be hesitating and lagging. This gives it a sense of dependability and shows what is possible with a well-engineered naturally aspirated engine.
Of course, without forced induction torque might be desired on very steep gradients, where a six-cylinder or turbo would have been nice. In the face of the motor's other charms, we'll forgive it. In terms of the old 0-100km/h sprint, we ran a best of 8.34 seconds. Obviously we all still hope a performance 'MPS' version returns some day for proper excitement, but for what the Atenza is designed to provide, performance certainly isn't bad.
Another benefit over its forced-induction rivals is real-world economy. Quoted at 6.6L/100km for the average cycle, we got pretty close at 7.4L/100km over mixed driving. This shows that, unlike some, Mazda isn't only concerned about how well its cars do in a lab, but in the real world too.
Mazda's six-speed automatic is pretty snappy and clever most of the time. It never hunts around. Instead, getting the job done. In manual mode with the paddles, the shift time seems a bit too slow for that gem of an engine. To us, a dual-clutch gearbox would be far better suited to it, or a manual gearbox but sadly Mazda has denied Australia the latter.
2017 Mazda6 Atenza – THE VIDEO
2017 Mazda6 Atenza – THE VERDICT
The Mazda doesn't have the most power in its class (Mondeo), it doesn't have the most space (Superb), and it is not a rear-wheel drive replacement to our home-grown heroes (Commodore and Falcon). Its initial servicing cost of $296 isn't as good as Camry's $140 capped-price bargain. The three-year unlimited kilometre warranty doesn't equal Hyundai's five-year jobbie, let alone Kia's monumental seven years. It isn't the quietest or most refined.
But, none of that matters. It is the most well-rounded, offering good or great in almost all areas. It has more soul than any of its competitors (even the Liberty, we're sad to say), is eminently well packaged with outstanding fit and finish, and it's the one we'd choose.
The increase in refinement, interior quality and electronic chassis aids have made what was already an engaging family car that much better.
PROS:
– Great design, is ageing well
– Comfortable long distance capability
– Improvements to refinement are noticeable
– Premium feeling cabin with plenty of standard equipment
– Zingy and responsive atmo engine
– Great real-world fuel economy
– Best in class dynamics
–User friendly ergonomics, MZD Connect rotary controller

CONS:
– Space saver spare tyre
– Ride not quite as good on 19's of Atenza
– NVH still not class best (but good enough)
– Gearbox not as fast in manual mode as we'd like
– No front parking sensors, even on flagship
As always, if you're thinking about buying a new car don't forget to click here to speak with our car buying specialists.