In wake of some recent dire years, Honda is finally shaping up for a better year with the release of some major overhauls in 2017. One nameplate etched in our minds is the Honda Jazz. Updated for 2017, it grows on its practical design and use of space, funky styling, and some extra features added as standard.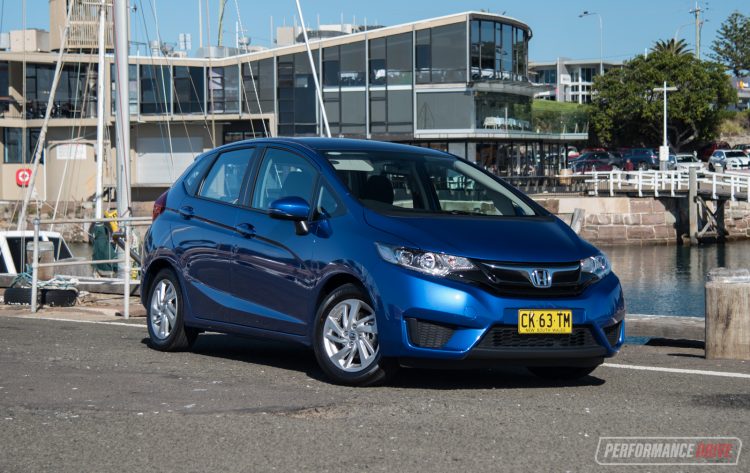 The month of May saw a mighty 43 per cent surge in sales compared with May of 2016 for the Japanese carmaker. And so far, a 14 per cent increase in sales from January to May this year over the same period in 2016. However, the 2017 Jazz does come with its challenges.
As the entire car market focusses on manufacturing more fuel efficient cars, we are now seeing bigger cars with engines that produce fuel consumption figures similar to that of the light/city vehicle market. And with that, buyers are steering away from light-sized passenger vehicles and into the small car and SUV market. In fact, light/city car sales fell by 28 per cent between May 2015 and May 2016 compared to the same period in the previous year; and by 17 per cent this year up to May so far.
So, does the Jazz have the strength to make an imprint into this shrinking market? And how does one of Honda's favourite small cars shape up against the rivals.
2017 Honda Jazz VTi – THE SPECS
Engine: 1.5-litre four-cylinder
Output: 88kW@6600rpm / 145Nm@4600rpm
Transmission: Five-speed manual
Drive type: Front-wheel drive
Wheels: F & R: 15×5.5, 175/65
ANCAP: Five stars (scored 36.58 out of 37)
Tare weight: 1043kg
Power-to-weight: 11.85:1 (kg:kW)
Official fuel economy: 6.2L/100km
Economy during test: 6.7L/100km
Fuel capacity/Type: 40L/91 RON
Power efficiency: 14.19kW:L/100km
0-60km/h: 4.06 seconds*
0-100km/h: 8.89 seconds*
60-110km/h: 6.43 seconds*
1/8 mile: 10.74 seconds at 110.8km/h*
1/4 mile: 16.84 seconds at 134.2km/h*
100-0km/h braking: 3.23 seconds at 42.42 metres*
Decibel at idle: 40*
Peak decibel at 60-100km/h: 76*
Priced from: $14,990
* Figures as tested by PerformanceDrive on the day. Factory claims may be different

2017 Honda Jazz VTi – THE PACKAGE
The Thai-built Honda Jazz still comes with the same three grades as in the past; the VTi, VTi-S, and the range-topping VTi-L. Here, we're testing the base VTi fitted with a five-speed manual gearbox, which is the only variant available with the manual transmission. All models come with the same 88kW, 145Nm 1.5-litre petrol engine. The lineup is fairly straight-forward, with just the one five-door hatch configuration available – check out the Honda City if you're after a sedan.
The outside of the package struts a quirky and active design. The roofline is quite high to make for some brilliant space and practicality inside. Even though it's difficult to make a car of these proportions look sporty, Honda has done a decent job at keeping the, almost van-like, boxy shape modern and relevant we think.
Prices start at a frugal $14,990 plus on-road costs, and you need to add an extra two grand if you opt for the CVT auto. It's worth noting that if you want any exterior colour other than red, you need to pay an additional $495, as all other colours use metallic or pearl paint. It is nice to see that all models now come standard with alloy wheels – this base model VTi is fitted with 15-inch alloys, and the higher models come with 16-inch wheels. All are equipped with a space saver spare wheel in the boot.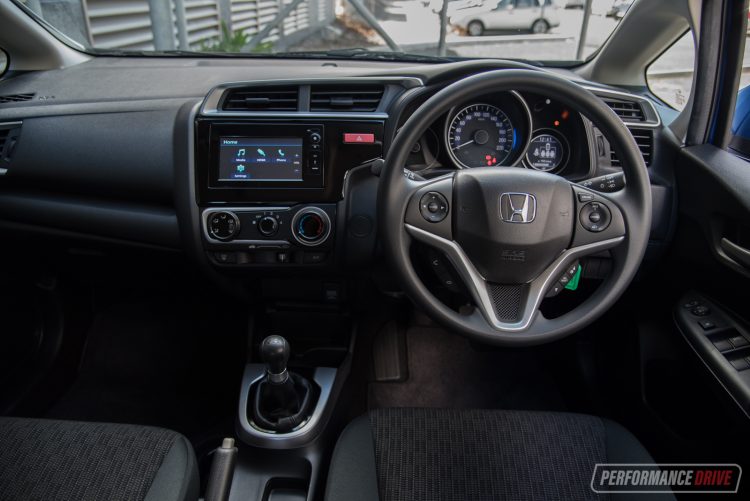 Being a base variant does not mean customers will miss out on some of those expected features as standard. At this cheap price, the VTi still comes packaged with cruise control, a 6.1-inch multimedia touch-screen with Bluetooth, USB, AUX and HDMI connectivity, a reversing camera, LED headlamps, hill holder support, eight airbags, a multi-information display for the driver, ABS, and a five-star ANCAP safety rating. Oddly, the manual example misses out on an outside temperature display, but the auto in the same spec doesn't. Go figure.
Unfortunately, there's not a lot of incentive to buy further up the range. The base VTi misses out on some of the newer tech that is now included in other light/city cars, like the Mazda2. For example, there's no option to add emergency auto braking, auto on/off headlights, lane assistance, satellite navigation, and the like. But, we're guessing that there would not be much demand for these features in entry-level city cars just yet.
Interior-wise, there is an unmistaken Japanese quality about the materials and knobs used, even though the base model VTi is predominantly made up of hard plastics – including the steering wheel (leather wrapping is available in all models above). The layout is among the best for ease-of-use, which is important for the market the Jazz targets. Then again, its simplicity is helped by the lack of an overwhelming amount of features.
The infotainment system is entirely controlled by the 6.1-inch touch-screen. Menus are easy to learn and quick to navigate through. However, there is no dedicated volume knob and the volume buttons are only accessible in certain menus. This can be annoying if you want to turn the volume down quickly. There are steering wheel-mounted buttons, but having to hold the volume button down for extended periods can be distracting.
Audio from the basic four-speaker system is exactly that. Basic. But it does the job without any real setbacks, and it produces commendable bass. You receive an extra two speakers (tweeters) in the higher spec models.
We found the front and rear seats more on the softer side, and not too heavily bolstered. It's no limousine but they're relatively comfortable and accommodating. One model up and you score a more premium fabric, or leather in the VTi-L. But we found no issue with the feel of the material in the basic VTi – maybe durability is where a difference lies.
Now, where the Honda Jazz really shines is with the new 'Magic' rear seat design. Basically, the rear seats split 60/40, and collapse to a completely flat state. But you can also flip the bottom of the seats upwards to make a huge amount of low loading space on the back seat floor. We think this is a brilliant and unique idea that adds a huge level of practicality and versatility not seen among any of the competition. And with the higher roofline, you'd be surprised how much you can now fit in on those essential weekend Bunnings trips. Or even a camping trip with bicycles.
To add to the practicality, the boot size is huge for this vehicle category. At 350 litres, it is one of the biggest in its class, bigger than the Toyota Yaris and Volkswagen Polo. It's even bigger than some cars from the next size up; Mazda3 (308 litres), and Toyota Corolla (280 litres). And with those clever Magic seats, you can collapse the rear seats to create a huge 1492 litres of space.
Servicing is required every 10,000km or six months, which is more regular than most. This could escalate the running costs. Honda's warranty is three years or 100,000km.

2017 Honda Jazz VTi – THE DRIVE
One of the many great specialities with the Honda Jazz is that the moment you hop inside, you feel like you're in familiar territory; there are no overwhelming designs or features to confuse you. Turn the traditional key in the keyhole, and you hear the innocent four-cylinder hum to life.
Getting up to speed feels wonderfully easy thanks to the 1043kg tare weight and the close ratio five-speed manual. Though, gear selection feels slightly unpleasant and notchy. And due to that short ratio gearbox, and only five gears, it means the little engine screams at around 3500rpm at 110km/h. This is not ideal for long-haul highway driving and economy. 88kW feels surprisingly adequate to get you from A to B, even lower in the rev range. And that is in the absence of a turbo, which is adopted by many others in the market. Across the 0-100km/h sprint it stopped our clock in a respectable 8.89 seconds.
Cornering feels zippy and spritely, and the chassis feels taut. But the higher roof and centre of gravity can cause it to become nervous around a fast sweeping corner. Steering is light, and a little on the sensitive side; little steering is needed for a lot of direction change, which is great in tight car parks. With such skinny tyres (175/65), hurling around a corner will soon reveal traction loss. Despite the rear not using a multilink setup, instead adopting an older torsion beam design, it all still makes for the desirable, light and nimble city commute we've known to enjoy in the Jazz.
Visibility is fantastic in the Honda Jazz thanks to the almost van-like shape, and plenty of glass all around. Even the front pillars see the triangle quarter windows making a comeback.
With the high revving at higher speeds, it's no surprise the five-speed manual gives an official fuel consumption figure of 6.2L/100km, which is higher than the CVT autos claimed 5.8L/100km. Our testing revealed 6.7L/100km, where about half of the driving carried out was at freeway speed. Unlike some other Euro or turbo models, the Honda Jazz can run on 91 octane petrol.
2017 Honda Jazz VTi – THE VIDEO
2017 Honda Jazz VTi – THE VERDICT
If you're in the market for one of the cheapest run-about cars you can buy, we think the Honda Jazz is up there as one of the best options on offer. In our opinion, the Jazz is best suited to customers who aren't too worried about style and sportiness, or market-leading technologies. More that they are after something user-friendly and super-practical for a busy, city lifestyle. We think the Magic seats are a very clever addition to an already roomy cabin.
And in base model VTi guise, there is the right balance of features to keep the Jazz cheap yet still relevant in today's technologically advancing auto industry. In fact, the features offered in the higher two variants will leave you scratching your head as to why you would bother spending more money.
It's a pity there is no sixth gear to bring the engine revs down at higher speeds in the manual, and the gear selection could be a little smoother. But we'd still rather have the manual than spend two more grand on a suffocating CVT auto.
PROS:
– Interior space and practicality
– Versatile 'Magic seats'
– Ease of use, back-to-basics driving experience
– Zippy in getting up to speed and running around the city in the manual
– Tonnes of storage pockets to throw junk in
– Alloy wheels standard across the range (some larger cars still don't offer this)
– Standard touch-screen interface

CONS:
– No sixth gear (in manual) means high revs on highway
– Incessant beeping when the key is in the ignition
– Oddly, outside temperature display is only available in auto gearbox examples
– No volume knob for the audio – volume buttons only appear on the one home menu
– Notchy manual gear selection
– For some, the Jazz misses out on most new technologies starting to flow down the market
As always, if you're thinking about buying a new car don't forget to click here to speak with our car buying specialists.