Audi has released the first teaser of the all-new Q5 SUV. It was previously expected but now it is official; the new model will debut at the Paris motor show next week.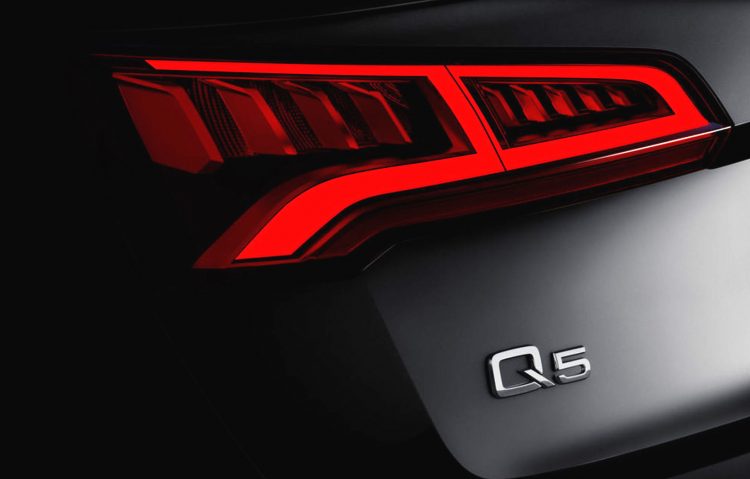 The current Audi Q5, the first-generation model, has been on sale in essentially the same form since 2008. This will be the first all-new generation, and it's set to be based on Volkswagen Group's new MLB 'Evo' platform.
At this stage only this highly-cropped preview image has been released, showing what appears to be the smart new LED taillight design. Audi is becoming one of the forefronts in automotive lighting, with its range of LED, OLED and Matrix LED setups.
We also get a quick look at the interior console and futuristic new gear level in recent video below. Audi will be boasting advanced connectivity with the new model, including, by the looks of it, full Android and Apple capability.
Being based on the MLB Evo platform, also shared with the latest A4, the new Q5 is expected to shed quite a few k-gs. There's speak of around 100kg being lopped.
This will be a good thing as the current Q5 is the heaviest SUV in the mid-size premium class, tipping the scales at over 2000kg in most cases. This doesn't compare well to all of the main rivals, including the equivalent diesel Mercedes GLC (1845kg), the 3.0 diesel Porsche Macan (1880kg), and the 2.0 diesel BMW X3 (1725kg). The new Jaguar F-Pace is also lighter (1775kg, 2.0 diesel) – all in kerb weight, based on entry level diesel figures.
As before, the Q5 is likely to be launched with a range of diesel and petrol engine options, with a plug-in hybrid tipped for release later in its lifecycle.
All will be revealed on September 29 at the opening of the Paris show. Stay tuned.